Hello everyone! In this post I would like to talk about some of the best restaurants in Moscow that you should visit during your stay in the city. The best means that these restaurants are in high demand, their summer verandahs are packed, ladies sitting at the tables are hot and cars parked at their entrances are high class! Welcome to Moscow during one of the steepest economic downturns.
Feel free to jump to the desired section: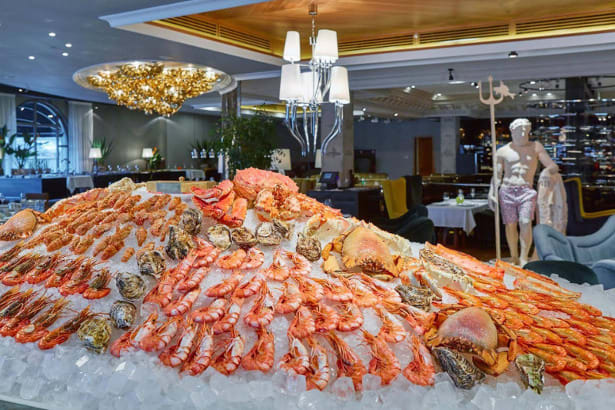 Erwin
Nearest Metro:Kievskaya
Erwin is a seafood restaurant that occupies 2 floors of the building located at the bank of the Moscow River. That's just steps away from the Radisson Royal Hotel. Erwin has 230 seats inside plus a large summer verandah making it possible to seat almost 400 guests during summer months.
They use local seafood products to prepare most of the dishes you'll find on the restaurant's menu. That's the main reason why a meal at Erwin can fit almost any budget. You can order a portion of local whitefish fillet for 580 Rubles or you can go with the King Crab from Murmansk that costs 9000 a piece. I can tell you that it's a pretty big crab weighting almost 3 kilos (about 6 pounds)!
Same thing with the drinks. You can order a bottle of some Spanish red wine for 3600 Rubles (about $100) or 2007 Brunello di Montalcino Tenuta Nuova for 15600 Rubles (about $260).
Other dishes on the menu worth mentioning are all kinds of tartars and salads, seafood pastas, Russian and Pan Asian fish soups, several kinds of caviar.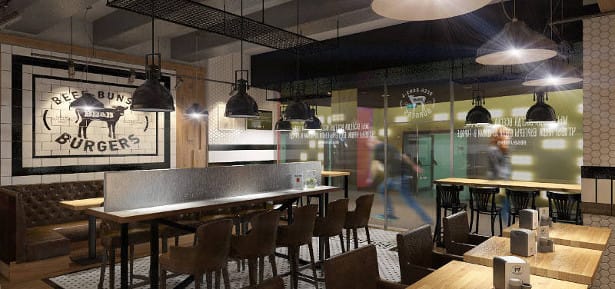 B&B Burgers
Nearest Metro:Trubnaya
The first B&B Burgers restaurant was opened in 2014. Later it has managed to expand into a chain that currently operates 12 restaurants in Moscow. The menu of B&B Burgers includes 9 kinds of burgers, ribs and several kinds of sandwiches. All burgers are priced at 380 Rubles (about 6usd). Double burgers will cost you additional 150 rubles (about 2usd).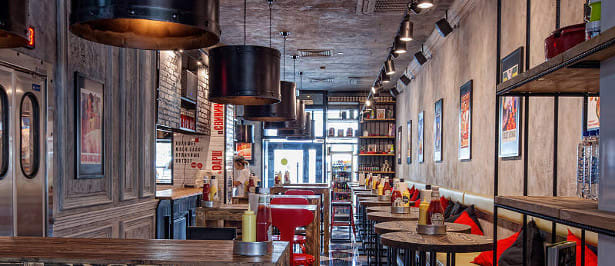 Farsh
Nearest Metro:Lubyanka
Farsh is another burger chain that was started in Moscow several years ago. Novikov Group - the company that owns Farsh have been in the restaurant and food business for decades as opposed to other similar places opened by younger entrepreneurs.
At the moment there are 8 Farsh restaurants in Moscow. The anchor restaurant is located near The St. Regis hotel on Nikolskata street. All of the items on their menu are made from local products. Classic cheese burgers cost 250 Rubles (about 4usd). The menu also includes several kinds of craft beer.
Nearest Metro:Smolenskaya
That's actually the only restaurant in Moscow and in the whole Russia that has managed to appear in The World's 50 Best Restaurants list for 3 years in a row. It is listed on the 23rd position after the Quintonil restaurant located in Mexico City and Amber in Honk Kong.
White Rabbit is known for its signature cuisine that is focused around classic European dishes with a slight Russian touch. They serve traditional Russian borscht soup with "baked beans, fried crucians and sour cream". They have cutlets made of boar meat served with "puree of celery root and rowan jelly". Most of the menu items look interesting and delicious.
The restaurant is located in the center of Moscow on the 16th floor of Smolensky Passage department store. This makes it a great observation point of the city.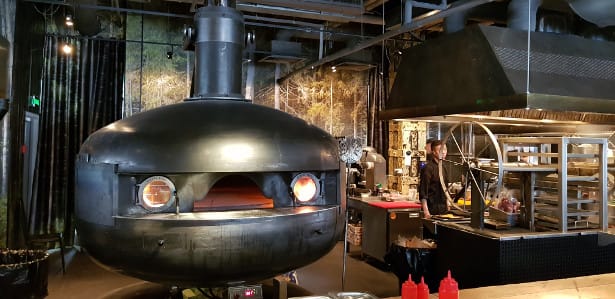 Gorynich Restaurant
Nearest Metro:Trubnaya
You'll finds lots of barbecue and grill dishes on the menu of Gorynich restaurant located near the Tsvetnoy Boulevard shopping center. There is a huge grill that they use to make most of their dishes placed inside the main hall. It was shipped here from Italy. There are also many vegetarian dishes marked with a green leaf on the menu.
Gornich serves excellent breakfasts every day from 8:00 in the morning till noon. Breakfast menu includes pancakes, omelets, burgers and several kinds of soup.
The seafood section of the menu has a number of decent options as well. Checkout their crab phalanges, tiger prawns and salmon fillet.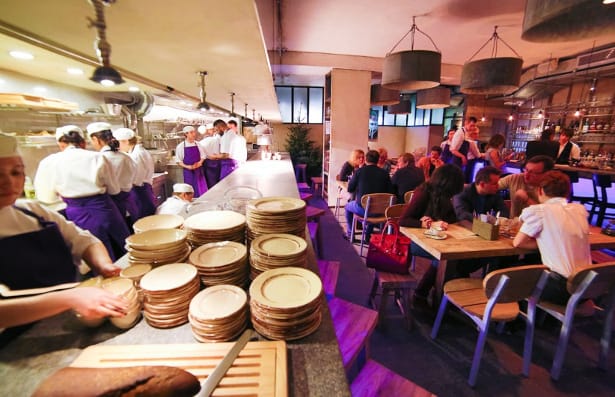 Pinch
Nearest Metro:Pushkinskaya
Pinch is located in the heart of one of the most upscale districts of Moscow called Patriarch Ponds (Patriki as locals call it). The area became especially famous after it was mentioned in several scenes that took place in Master and Margarita novel written by Bulgakov. Today Patriki has lots of nice bars and restaurants that attract locals and foreign tourists.
Pinch is a gastropub famous for its open kitchen and unique author's menu compiled by Italian chef. It gets really packed and loud during weekend evenings, so make sure to make your reservation in advance.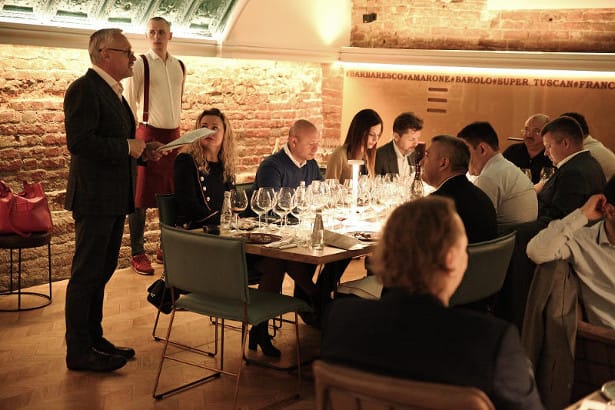 Wine and Crab
Nearest Metro:Lubyanka
Wine & Crab has an extensive list of dishes made from several kinds of crab shipped here directly from the Russian Far East. The most popular kinds include Blue King Crab, Spiny and Hairy crab.
Checkout their "Russian Pelmeni" with crab for 620Rubles (10usd). These are very delicious, so as the crab cakes that cost 750 Rubles per portion (about 12usd). One of the local sommeliers can help you pick your perfect wine from more than 600 bottles available on the wine list.
The restaurant is located in the basement of Teatralny Proezd – Moscow's high fashion shopping street with all the high end designer brand boutiques.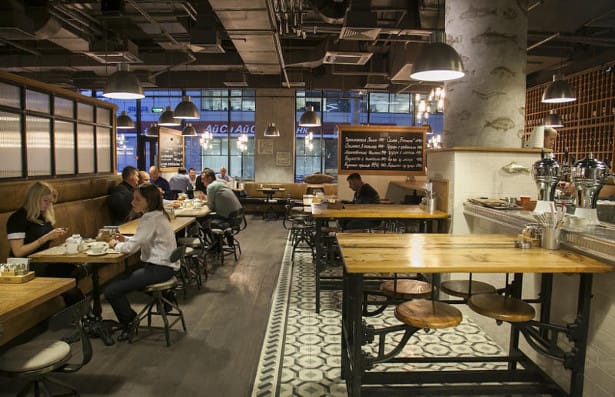 Nearest Metro:Belorusskaya
This is an excellent seafood restaurant chain that has two locations. The first one was opened in the new business district of the Moscow located near Belorusskaya subway station. The second one is located on Paveletskaya station inside the business center close to the Courtyard Moscow hotel.
Both of the restaurants have modern bright interiors with lots of light, high ceilings and wooden furniture. Local menu is very extensive and has all kinds of dishes made of fish, crab and shrimp including Boston chowder and crab cakes. They also have several kinds of beer that they serve in large bottles.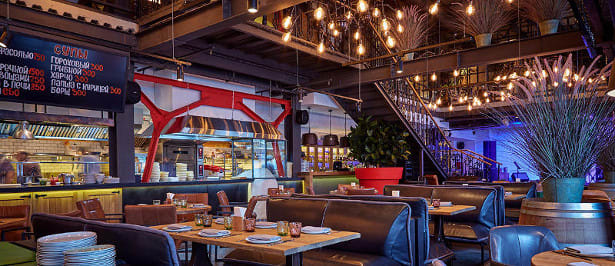 Valenok
Nearest Metro:Tsvetnoy Bulvar
Valenok is owned and operated by Alexander Novikov one of the pioneers of the Moscow restaurant scene. Located on Tsvetnoy Boulevard, it has a large sitting area with an open kitchen. Outside there is a large summer verandah.
The cuisine is mixed and focused around the local ingredients. This allows to keep the menu prices at a reasonable level. What's remarkable about Valenok is that on weekend evenings it turns into a night club packed with lots of beautiful Russian women. The music inside sucks but the girls look really nice:)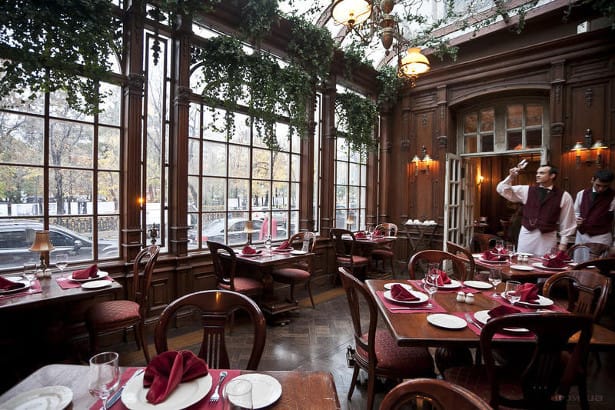 Nearest Metro:Pushkinskaya
Café Pushkin is an award winning restaurant that specializes on Russian cuisine and attracts a lot of customers from all over the world. It was opened in 1999 and still remains one of the major attraction points on the Moscow restaurants scene.
Pushkin's menu has an extensive list of dishes ranging from caviar to pirozhki, borsch and Russian sterlet. You'll like its 19th century classic dark interior design with tall ceilings. The restaurant is located near Pushkin subway station on beautiful Tverskoy Boulevard.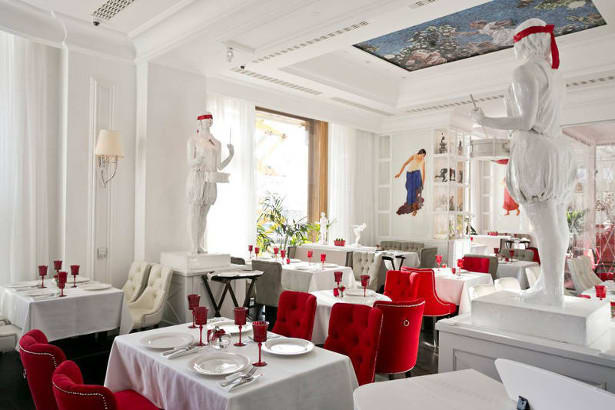 Nearest Metro:Okhotny Ryad
Basically it's probably the only rival of Pushkin restaurant that also focuses on Russian cuisine. It also occupies one of the best central locations in the city - opposite Red Square inside the 5 start National Hotel. Its menu has lots of Russian dishes that include pelmeni, caviar, borscht, blini and ukha.
The main difference between the two restaurants is interior design. Dr. Zhivago's interiors are really bright and meant to resemble Soviet era. Inside there are lots of white and red colors. The waiters have red stars printed on their uniforms.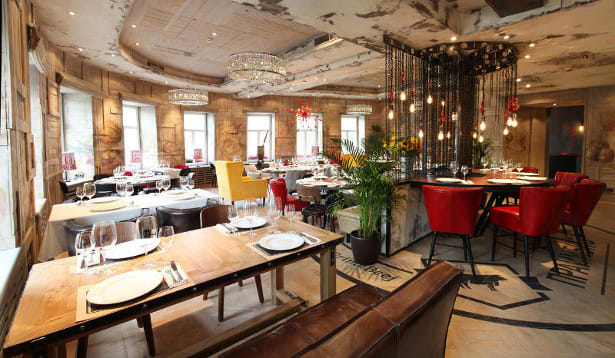 Voronezh
Nearest Metro:Kropotkinskaya
Voronezh has an excellent location on Prechistenka street, opposite the Cathedral of Christ the Saviour. It combines a meat restaurant located on top floor and a bistro where you can have a quick meal or make an order "to go" located on the first floor. Most of the menu items include all kinds of steaks and ribs. The fish section is smaller and includes 5 kinds of oysters, crabs and sea urchins.
All of the dishes are made from the local products that are shipped directly from a number of local farms located in the Russian countryside.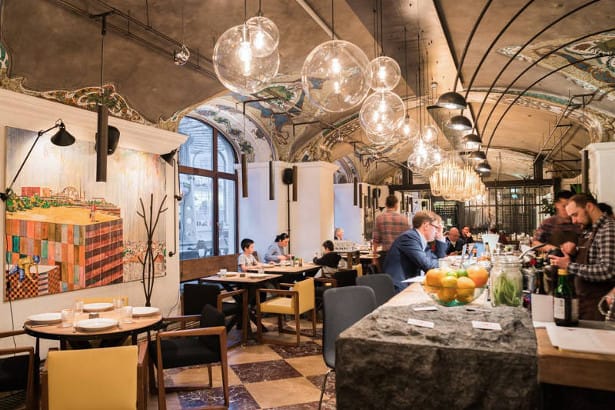 Ryby Net (No Fish)
Nearest Metro:Lubyanka
Rybi Net is translated from Russian as No Fish. So it's a steak house located inside The St. Regis hotel on Nikolskata street minutes away from the Red Square. Ryby Net is part of the famous Novikov restaurants company. The restaurant has a modern expensive interior with a large open kitchen.
Some of the best items I can mention are "Prime filet mignon" and "Veal pelmeni". All dishes at Rybi Net are made from local products. During weekend evenings the place gets really packed and the music played in the background becomes a little louder.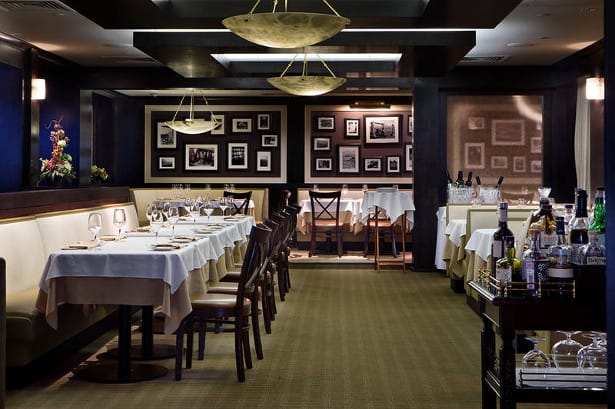 Chicago Prime Steak House
Nearest Metro:Chekhovskaya
This is a good quality premium steak house located close to Tverskaya subway station. The interior design of Chicago Prime Steak House looks so much like steak houses of the same class in US.
Leather couches, white tablecloths, furniture made of massive red wood as well as photos on the walls make you think like you have teleported to Morton's. The menu includes all kinds of steaks and some fish dishes. The Clam Chowder was really good. All dishes are made from the locally farmed products.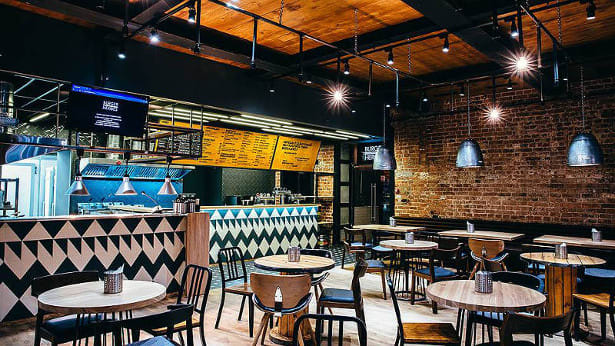 Burger Heroes
Nearest Metro:Arbatskaya
It all started with the food truck that the co-owners of Burger Heroes brought to Moscow from Germany in 2014. The idea was to start cooking and selling sandwiches at various food festivals around the city.
One year after the start they were able to open their first burger restaurant. It was a small place in the center of Moscow with half of the space taken by the open kitchen. Their creative approach to making good quality burgers combined with reasonable prices allowed them to grow their business into a chain.
Today there are 8 Burger Hero restaurants in Moscow and they plan to expand to other regions of Russia. In 2016 Burger Heroes received the "Best Moscow Burger" award based on the votes of the readers of Afisha Daily magazine.
Their classic burgers are priced at 280 Rubles (about 5usd) and their gourmet burgers prices range from 330 to 380 Rubles (about 7usd);
More Restaurants in Moscow