Moscow, Russia (2023 Travel Guide + Tourist Facts)
Welcome to TrendyMoscow.com, one of the oldest online resources for travellers planning their trip to Moscow, Russia. Here you'll get all the information and tools that will make your stay in Moscow more exciting, productive and safe. Explore Trendy Moscow's sections dedicated to attractions, restaurants, nightlife as well as various parts of Moscow.
Find Your Hotel or Hostel
The number of tourists that visited Moscow in 2018 has increased to more than 23 million people. Currently there are close to 1200 hotels and about 350 hostels in the city. Most tourists prefer to stay at 3 and 4-star hotels. There are more than 6000 new hotel rooms planned to be open in Moscow by 2023 to meet the increasing demand both from local and foreign travellers.
Entertainment
Modern Moscow has numerous gastronomic options targeted at every budget. Officially there are more than 11,000 of restaurants in Moscow ranging from fast-food to high class cuisine. Moscow has more than 140 McDonald's restaurants that are spread around the city. The first McDonald's restaurant was opened near Pushkinskaya metro station in 1990. It's remarkable that it was visited by more than 30,000 people during its first day of work!
Moscow is famous for its nightlife. There are many night clubs and bars that are open 24 hours. Checkout our dedicated nightlife section that features the latest openings along with ratings and recommendations.
Population
Moscow is a large city populated by more than 14 million people. There is unofficial statistics data where estimated population of Moscow is actually close to 18 million.
The first figure is based on residents that hold official registration at the State migration service. Unofficial data is based on all people that come to Moscow from other regions of Russia and abroad despite their registration status.
Moscow Weather
January is assumed to be the coldest month of the year in Moscow. During this month average daily high temperature decreases to -6 Celsius (21 F) and daily average lows decrease to -10 Celsius (14 F).
It usually starts snowing in late November. By the end of March night temperatures settle above 32 degrees Fahrenheit (0 degrees Celsius).
Overall, Moscow climate is slightly milder comparing to North American regions within the same climate zone (for example Minnesota). The most comfortable months in Moscow are May, June, August and September. July is supposed to be the hottest month of the year. The average temperature in July is 19 degrees Celsius (65 F).
During summer months you can expect daily temperatures to fluctuate around 22 degrees Celsius (72 Fahrenheit). Occasional heat waves can increase daily temperatures up to 38 degrees Celsius (100 F).
Moscow Layout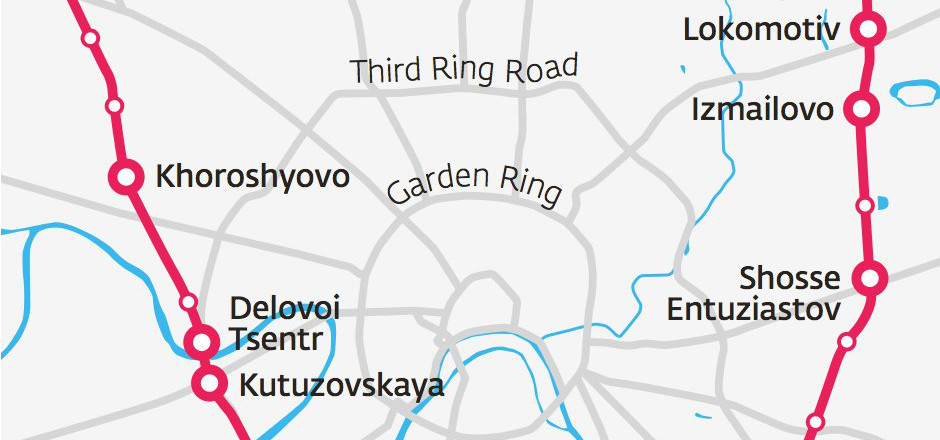 If you look at the modern map of Moscow you'll see that the city consists of 4 parts that are formed by 4 main ring avenues connected by several major radial avenues. Moscow's central point also known as "Kilometer Zero" is marked by the bronze plaque located near The Kremlin and Red Square.
Here are 4 main "Ring Roads" of Moscow
Boulevard Ring Road - goes around the whole historic part of Moscow. That's where you'll find all major attractions, old Moscow buildings and museums. "Boulevard Ring" is split into several parts that have different names like Petrovsky Boulevard or Gogolevsky Boulevard.
Garden Ring Road ("Sadovoe Koltso") – covers a slightly broader area of the city. Everything referred to as Moscow center is assumed to be located inside the "Garden Ring Avenue". "Garden Ring" is also split into parts that have different names.
Third Ring Road – the area between the "Garden Ring Road" and the 3rd Ring Road is adjacent to the central part of Moscow. Neighborhoods located inside 3rd Ring Road have an easy access to the center of the city. The area includes several notable high class residential neighborhoods and parks: Khamovniki District, Park Gorkogo and Luzhniki.
Moscow Ring Road. The substantial part of Moscow is located between the "Third Ring Road" and the outermost "Moscow Ring Road (MKAD)". The area consists mostly of residential neighborhoods with multi story buildings and social infrastructure like schools, hospitals and department stores. The closer you get to the "Moscow Ring" the further you get from the center of the Moscow.
Some notable tourist points located inside the 3rd Ring Avenue are Moscow State University, Sparrow Hills, Park Tsaritsino, Park Kolomenskoe, Izamilovo, Ostankino and several others.
Everything outside Moscow Ring Road (MKAD) is not considered Moscow except the newly merged "New Moscow" territory located south-west of the city.