Slowing global economy, the fall of Russian ruble to the lowest levels since 1998 and drastic decrease of consumer income are just some of the bad things that continue to influence all kinds of businesses located in Moscow and all over Russia.
Over the past several years a great number of night clubs had to shut their doors for good. The good thing is that Moscow nightlife has managed to survive these tough economic conditions.
There are new spots on the Moscow nightlife scene that will continue to evolve in the new economic reality. Higher quality clubs and restaurants will remain in high demand.
Browse by Category: Click any of the links below to jump to the desired section:
Our Best Moscow Night Club Poll Results
We have finalized our recent poll results asking our guests about their favorite night clubs in Moscow. We had a total number of 131 voters from US, Europe and Turkey.
Checkout the official poll results below:
| Night Club | #Votes | Percent |
| --- | --- | --- |
| Propaganda | 44 | 33% |
| Duran Bar | 25 | 19% |
| Kianu Bar | 22 | 16% |
| Bar Klava | 20 | 15% |
| Gazgolder | 13 | 9% |
| Troyka Multispace | 5 | 4% |
| Mondriaan Bar | 2 | 1.5% |
Dead Clubs List: Moscow Night Clubs that Have Been Shutdown
I see a lot of websites on the internet listing many Moscow clubs that don't actually exist anymore. Before moving to our top Moscow night clubs list, I wanted to highlight all the clubs that have been shut down. This will make overall picture of Moscow nightlife more complete. Here it is:
Simachev Bar. Simachev Bar used to be one of the pioneers of Moscow nightlife that had managed to survive all economic downturns before 2019. It has been recently announced that Simachev will finally close its doors without any further plans to reopen.
Soho Rooms. One of the most expensive night clubs in the capital of Russia called Soho Rooms has been officially shut down in April of 2017. During the past 10 years this club was one of the main attraction points for the local riches of all types. Politicians, oligarchs, local pop stars and lots of beautiful women packed inside Soho every weekend night. Good thing is that the traffic jam in front of the club's main entrance during weekend nights is gone for good! Update: Soho Rooms was recently reopened as a restaurant at the same spot under a different name. The place is now called Navolne.
Krysha Mira. "Krysha" that has been around for the whole decade has also closed its doors in 2017. This was one of the symbols of Moscow nightlife. We will always remember huge traffic jams consisting of insanely expensive limousines in front of the club as well as its dance floor packed with the hottest women of Moscow.
Solyanka. This clubs has also been around for almost a decade and it was one of the most friendly casual underground night clubs in Moscow. High quality electronic music and afterhours parties attracted stylish locals and expats. Apparently there were some problems with the rental fees that could not be covered on time.
Konstruktor. Konstruktor opened its doors on the Moscow nightlife scene in 2015. It was a pretty big club that could accommodate more than 1000 guests. It had one of the best high end sound systems in town and was targeted at large electronic music events. It had to shut its doors in 2017 after failing to sell-out for several major events.
Mishka Bar. That's actually a well-known hipster type of place in Saint Petersburg. In 2015 they started holding weekly parties in Moscow at the premises of the Blum Café. Younger crowd loved its casual atmosphere and high quality electronic music that included a lot of Disco and Funk. This year Mishka left Moscow for good to work on their new project in Saint Petersburg.
Vanilla Ninja. This was a private guest list only underground night club similar to Krysha Mira. Closed parties, models and one of the hardest to get into door policies didn't last for too long. The club didn't manage to live through the economic downturn and had to close its doors for good.
Space Club Moscow. This was probably one of the biggest clubs on the Moscow nightlife scene. It was very well known for its huge electronic music raves and big name DJs like Tiesto. The closure of Moscow extension is linked to the closure of the Space Club in Ibiza.
Motel club, located near Tsvetnoy boulevard subway station has been finally shut down. It was a pretty big night club that occupied 3 floors of one of the old Moscow mansions in the center of the city. The place was positioned as a premium night club with lots of expensive autos parked at the front door and strict face control. But the music sucked and it never felt comfortable inside….
Squat ¾
Squat ¾ was referred to as the new Solyanka by a lot of people. It was centrally located at the premises of historic Sandunóvskie Baths, built in the 19th century.
Moscow Nightlife 2019: Best Places to Party
Here is our list of the top night clubs in Moscow. The list will be updated on a regular basis, so make sure to bookmark this page! 3 spots from the list are located in Patriarch Ponds area of the city. This is a great historic neighborhood that has some of the best restaurants and bars in Moscow.
The main street of the neighborhood is called Malaya Bronnaya and it has most of the bars and restaurants in the area. During summer months it gets filled with stylish crowd moving from one place to another.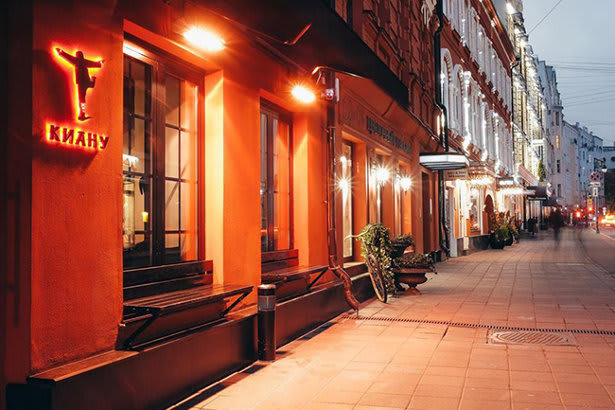 Kianu Bar
Nearest Metro:Pushkinskaya
Kianu is a small bar that has DJs playing nice underground house music on weekend evenings. It gets extremely packed on summer weekends. Kianu can't accommodate all of its guests, so a large portion of its visitors prefer to hang out outside holding their glasses of wine.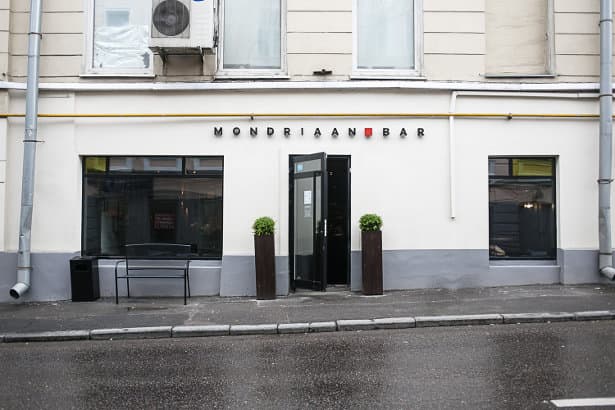 Mondriaan Bar
Nearest Metro:Chekhovskaya
Mondriaan Bar was opened several years ago in the heart of Moscow on Petrovka street. In terms of design, the bar looks like a smaller copy of Propaganda. It has the same brick walls, large windows that face the Boulevard and a wooden bar table.
The place is tiny – the total sitting area can accumulate maximum number of 30 guests. During weekend nights tables get removed and the whole sitting area turns into a dance floor. Mondriaan gets really packed during weekend nights when they invite DJs to spin some good quality house music.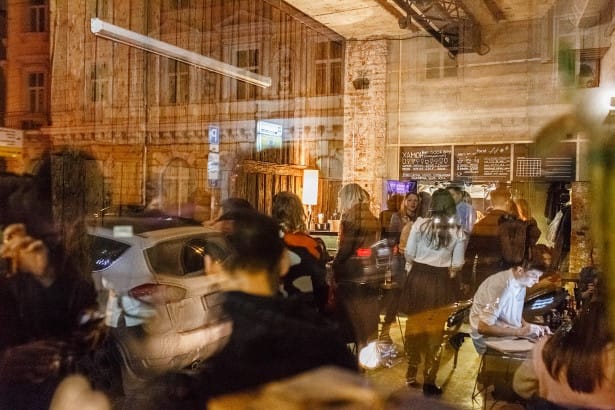 Untitled
Nearest Metro:Lubyanka
Untitle has recently moved from its previous location near Stoleshnikov pereulok, next door to Haggis Pub & Kitchen. This place reminds me of Propaganda in many ways. The interior design includes stylish brick walls and tall ceilings. They also put a lot of focus on music that ranges from weird Ukranian pop to Disco and hip hop. Check out their Facebook page for the upcoming events.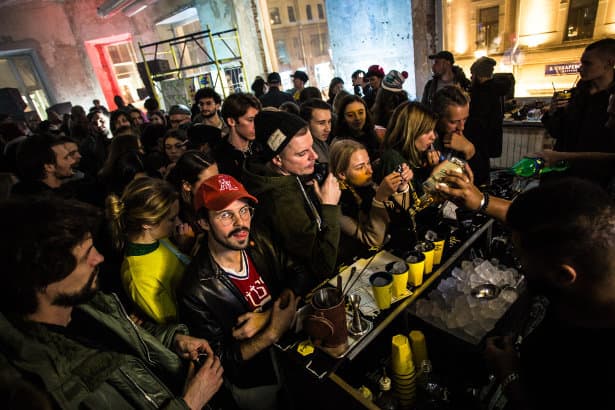 Dom Kultur
Nearest Metro:Sukharevskaya
Dom Kultur (translated as house of cultures) combines a cafe on the first floor and a restaurant with a bar on the second. Inside Dom Kultur has a lot of space with tall ceilings and a lot of light thanks to a dozen windows.
During the day, Dom Kultur functions as a cafe with decent lunch menu. During weekend nights it turns into a night club when the chairs and tables on the second floor get removed.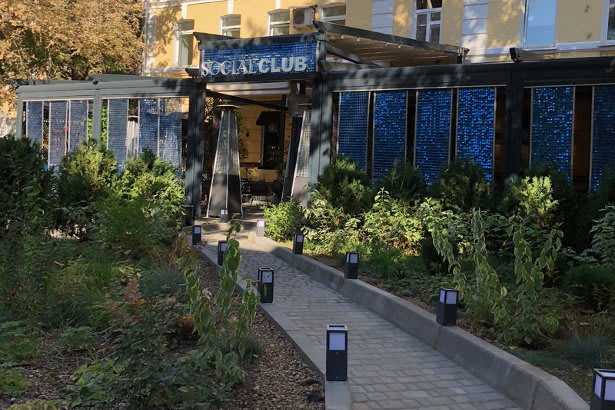 Social Club
Nearest Metro:Pushkinskaya
Social Club is located in a courtyard of one of the buildings facing Malaya Bronnaya street. Social Club actually has its own building located right in the middle of that courtyard. Inside you'll find the main restaurant hall with mixed cuisine and verandah. There is a basement area that has all the action going on during weekend nights when they invite DJs to play at their parties.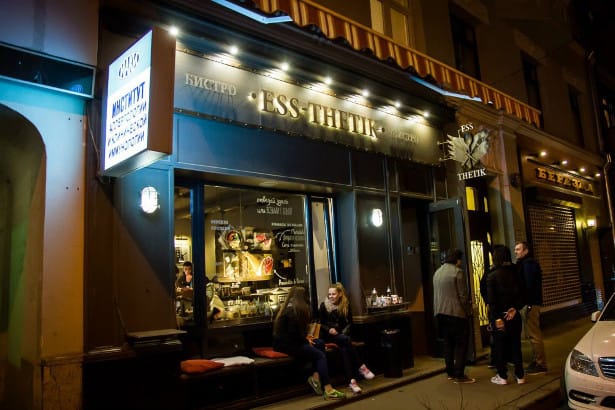 Ess-Thetik
Nearest Metro:Pushkinskaya
Ess-Thetik is located one block away from Kianu. This one is actually a small café open 24 hours during weekends. It gets packed by people that are tired of dancing and drinking. It is known for its grilled sausages menu that you can eat outside sitting on the bench. The external heaters allow sitting outside even during colder nights.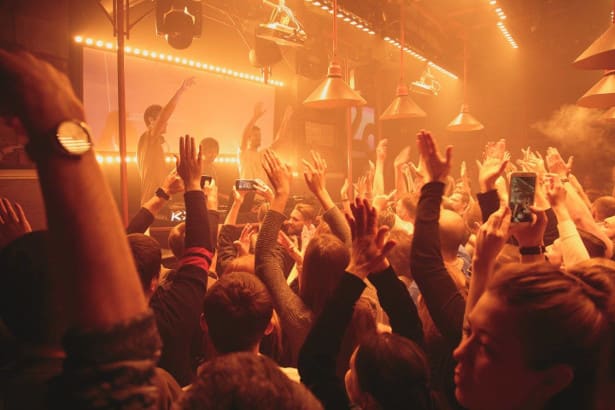 Nearest Metro:Kitay Gorod
Propaganda has been around for more than 20 years on the Moscow nightlife scene. DJ Sanches probably holds the longest-running night club residency in the whole Moscow with his famous Thursday Nights here. Inside it looks just the same as it used to – back in 1997. The only difference is new generation of young people on the dance floor. 20 Years ago most of them were newborns.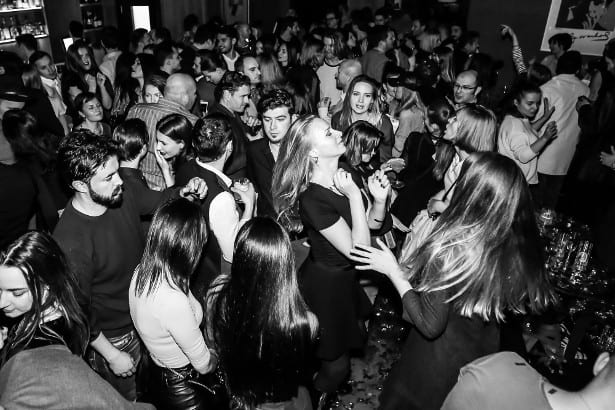 Nearest Metro:Trubnaya
Bar Klava used to be one of the main attraction points for people visiting Patriarch Ponds on weekend nights. This place was really small and used to get extremely packed with trendy locals and foreigners. It was famous for good looking women and relaxed music like disco and pop.
Several months ago Bar Klava has finally opened its doors at the new location. The place got bigger and keeps attracting the most elegant crowd in Moscow.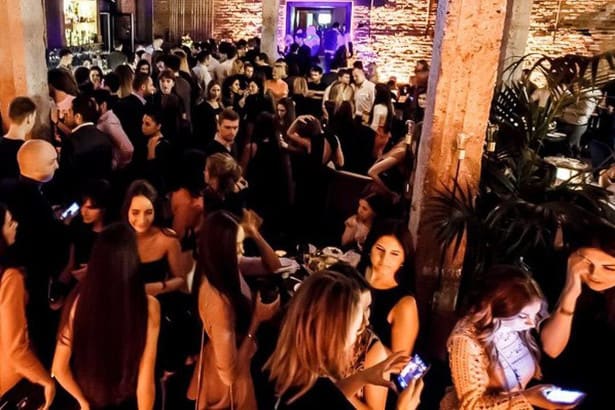 Nearest Metro:Krasnopresnenskaya
Duran Bar used to be the hottest place in town several years ago. Today things have changed and I guess it's worth visiting it from time to time depending on the party.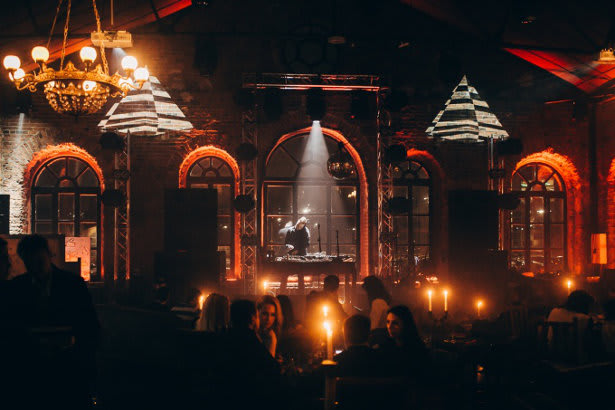 Gazgolder
Nearest Metro:Kurskaya
Gazgolder is the new Moscow's underground techno outpost that has gone mainstream. Check out their weekly parties held by major Moscow's promo teams. They also hold regular showcase events of the top European electronic music festivals. You'll like its dark interiors, tall ceilings, brick walls and a fireplace.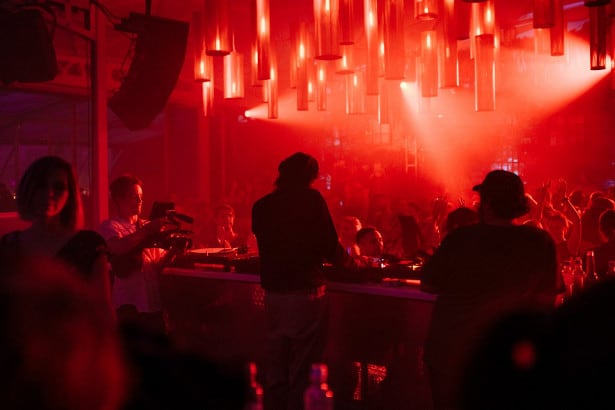 Heaven
Nearest Metro:Kievskaya
This place is actually very new. It was opened at the premises of the closed Krysha Mira club and focuses on quality electronic music. The roof top level has been totally reconstructed. Heaven will host events organized by Moscow's various promo teams.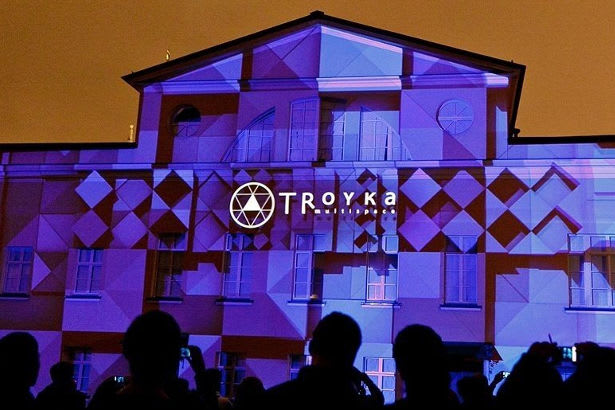 Troyka Multispace
Nearest Metro:Kitay Gorod
There is a historic mansion located on Yuzskaya street that hosts one of most closed Moscow night clubs called Tryka Multispace. Inside there are engineering systems that allow to transform the club's interior by changing its floor levels and moving the stage.
That's the only venue on the Moscow nightlife scene that opens its doors only once a month. This means that these guys do a great job in preparing their parties that feature top of the line underground DJs and extravagant performances. Every month a large number of high class limousines line up near the entrance of Troyka to bring guests directly to the club's doors.
Troyka has a lot of similarities with Krysha Mira. This is quite reasonable considering the fact that some of its creators used to be part of "Krysha" team.
More Night Clubs in Moscow