Address: Marksistskaya St, 34к10, Moskva, Russia, 109147
Nearest Metro: Taganskaya
Phone: 7-495-921-2223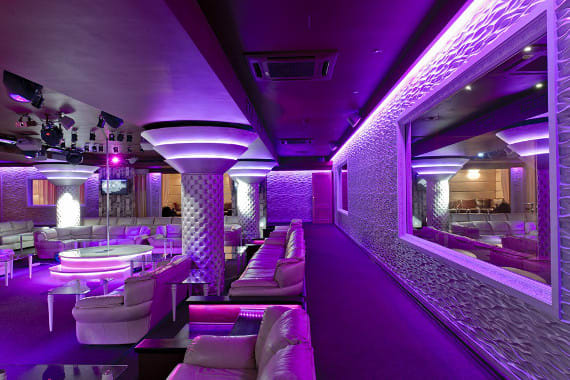 In this review I would like to tell you about a relatively new venue on the Moscow strip clubs scene called Virgins. Make sure to follow that link above and read my general overview of how this type of businesses operate in Moscow. To put it short this place is full of beautiful Moscow girls that you can hang out with. I wouldn't say that these girls look like any of the Mavrin Models but there were a number of very attractive women.
Moscow Strip Clubs with a Different Approach
None of the Moscow strip clubs I know have ever positioned themselves as so-called "new generation" gentlemens clubs. I'll tell you right away that any intimate services are prohibited at the premises of the Virgins club. On one side this sucks, but on the other this Moscow strip club is totally legal. You can meet plenty of beautiful Russian women here and then arrange a meeting with the one you really like during her non-working hours.
No Money-Pulling at the Virgins Club
As it is stated on its web site, Virgins club tends to hire more ladies with no previous work experience at other Moscow strip clubs or adult industry in general. In addition to that ladies are not pushed or motivated in any way to make customers buy more drinks, food or any services at the club. They just don't care how much money you blow during your stay. In fact it is clearly stated that any money-pulling techniques are prohibited at the Virgins club.
Virgins Club Atmosphere
One of the reasons to visit Virgins Club in Moscow is its informal pre-party atmosphere where it is comfortable to hang out listening to the lounge music in the company of beautiful Russian women. You can do so either at the bar or sitting on one of the leather couches that are set at a comfortable distance away from each other. During weekends you'll have to get the couch option that used to cost 15000 rubles (about 450USD) paid as a non-refundable fee that could be spent on the club's menu. Similar rules exist at other strip clubs in Moscow like Rasputin, both of the 911 clubs, Bordo and Penthouse. It's not bad because otherwise the club would be way too crowded and the price is per table not per person so you can split the cost with a friend or colleague..…
Candle in The Night
This is one of the Moscow strip clubs that has its internal signals system. A candle is put on the guests's tables once they arrive. A burning candle on the table means that the guest has just arrived and shouldn't be approached by ladies during the first 15 minutes. You can extend this period by paying 5000 Rubles (about 150USD) an hour for the burning candle if the purpose of your visit is just to watch.
Don't Confuse the Badges
All of the girls at Virgins club wear a bracelet on their wrists that has one of the 6 colors. White color (Virgin) means that the lady has probably just arrived to the capital of Russia and has never worked at an adult club before. Red color (Party Girl) means that the lady in front of you has never worked at a gentlemens club but likes to party and is quite familiar with the Moscow nightlife. There is also a Blue bracelet that is worn by experienced strippers, Yellow bracelets worn by personal concierges, Green bracelet that you'll see on a wrist of the Hostess and a Black bracelet (Black Diamond) worn by the most exclusive girls of the club.
As opposed to other Moscow strip clubs prices on the private dances and other services here vary depending on the color of the bracelet that a lady wears. Private dance prices start at 1500 Rubles (about 50USD) for 5 minutes if you choose a Party Girl with a Red bracelet. The most expensive services are provided by the Black Diamond girls (3000Rubles for a private 5 minute dance).
If you are confused by all these rules & innovations you have an option to get a beautiful personal concierge after entering the club. She will cost you 5000 Rubles an hour and will help you familiarize yourself with the club (introduce you to the right girls, order taxi & other things…)
More stripclubs in Moscow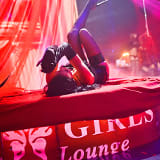 Nearest Metro Station: Belorusskaya
3-Ya Yamskogo Polya Ulitsa 15
The first thing you should know about Golden Girls is that it's one of the oldest high class adult venues in the whole Russia. In addition to being a popular strip club in Moscow, Golden Girls plays a leading role in the first Russian Strip Clubs Association. So this is not just a club but