More restaurants in Moscow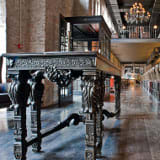 Nearest Metro Station: Sportivnaya
Bol'shaya Pirogovskaya Ulitsa 27
The building where Luch is located was constructed before revolution and during soviet times belonged to electro-lamp production plant. The renovated building has tall ceilings, one of the longest bar tables in town, restaurant and a beautiful summer veranda.
Inside Luch is decorated by modern art items that include sculptures, paintings and photos. Local bar menu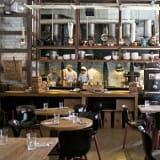 Nearest Metro Station: Arbatskaya
Bol'shaya Nikitskaya Ulitsa 12
The main attraction of Ugolek is its open kitchen with 6 cast iron stoves used to prepare various kinds of meat dishes.
Interiors of the restaurant feature brick walls, tall windows and custom made wooden furniture. The windows are kept open during warm summer months transforming the main hall of Ugolek into a large