More restaurants in Moscow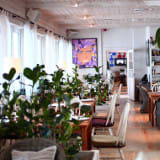 Nearest Metro Station: Krylatskoye
A-109 2
Prichal is one of the upscale restaurants in Moscow located in the famous Rublevka area 12 kilometers outside city center.
On summer weekends this place gets really packed with wealthy locals and the restaurant's parking lot gets filled with the latest models of high end autos like Bentleys and Maseratis.
Prichal is situated on the bank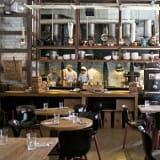 Nearest Metro Station: Arbatskaya
Bol'shaya Nikitskaya Ulitsa 12
The main attraction of Ugolek is its open kitchen with 6 cast iron stoves used to prepare various kinds of meat dishes.
Interiors of the restaurant feature brick walls, tall windows and custom made wooden furniture. The windows are kept open during warm summer months transforming the main hall of Ugolek into a large