More restaurants in Moscow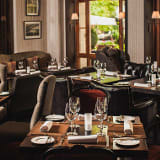 Nearest Metro Station: Pushkinskaya
Malaya Bronnaya Street 8 строение 1
Aist is one of the oldest higher class restaurants in Moscow. This place is managed by the famous Novikov Group and includes three levels. The first one has a lounge area with comfortable couches. On weekend evenings they invite DJs that spin stylish electronic music there creating pre-party atmosphere.
You won't hear any electronic music on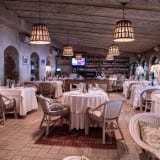 Nearest Metro Station: Sportivnaya
Bol'shoy Savvinskiy Pereulok 12 строение 2
Bistrot restaurant located in Moscow was created in close cooperation with Davido Vaiani who is the owner of original Bistrot located in Forte dei Marmi, Italy.
This venue is focused on Tuscan cuisine and managed by the master chief Massimo Ferrari. Massimo joined Bistrot in Moscow after working at the restaurant called Al Bersagliere in Italy.