Address: New Arbat Avenue
Nearest Metro: Arbatskaya
New Arbat was initially included in the Moscow construction development plan in 1935. The idea was to build a road connecting Kremlin and the famous Rublevka area where most of the communist party elite had their country side residencies.
They simply needed a modern highway that they could use to travel between Kremlin and their dachas. The original name of the street was Kalinin Prospekt, named after one of the revolution leaders Mikhail Kalinin. The name was changed to Noviy Arbat during the post-soviet period in 1994.
Table of Contents.
Click any of the links below to jump to the desired section: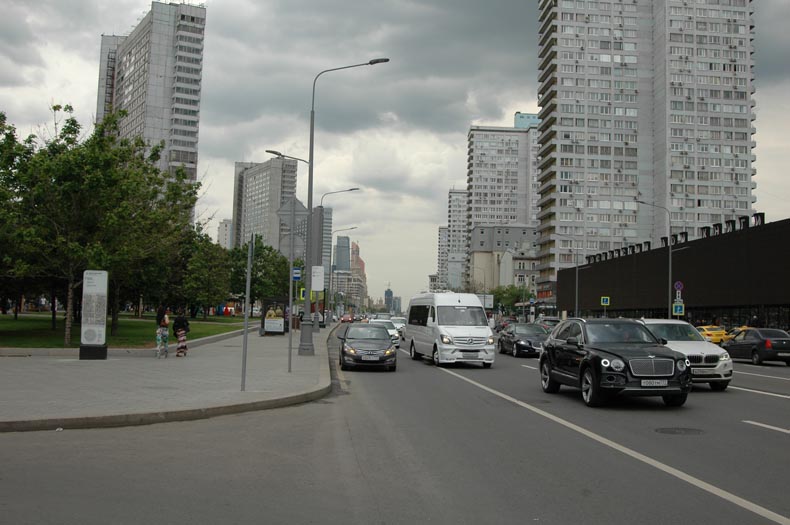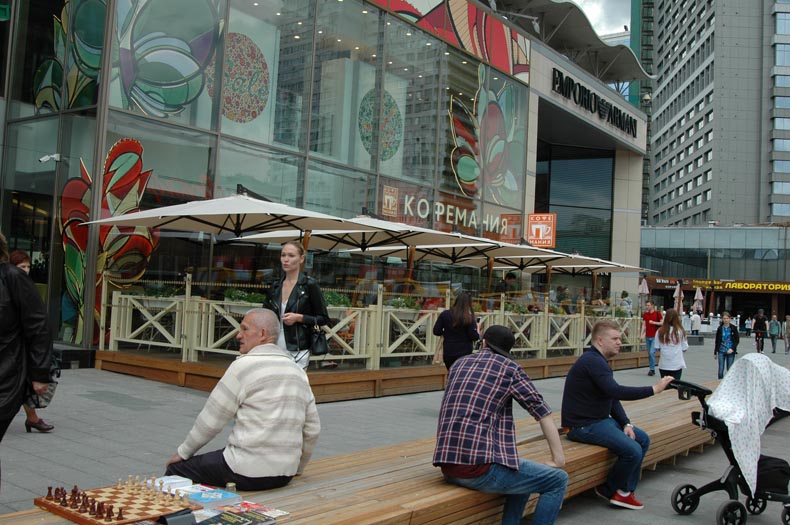 Today New Arbat is one of the busiest streets of Moscow full of cafes and restaurants. It has recently gone through a major renovation. One of its key objectives was to make this central avenue more
pedestrian friendly
.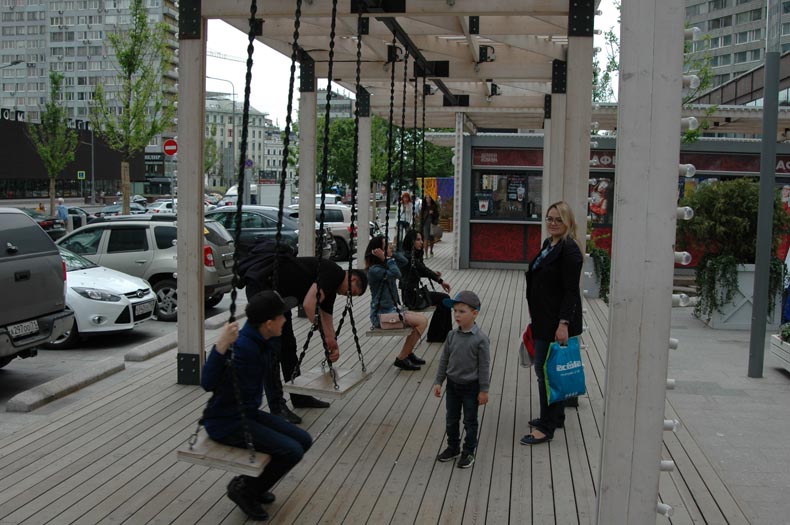 The construction works have finally completed in summer of
2017
. Some of the major
changes
include wider sidewalks, improved night lighting and more public areas with benches and swings.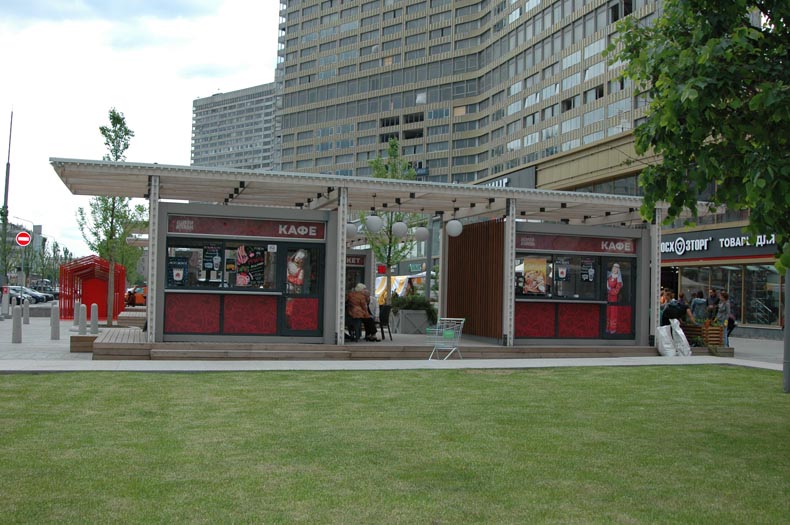 Three architecture bureaus were involved in the project: Topotek 1 from Germany, Strelka Architects and Tsimailo Lyashenko & Partners from Russia. By the way, New Arbat has two sides. Most of the restaurants and cafes are located on the odd side.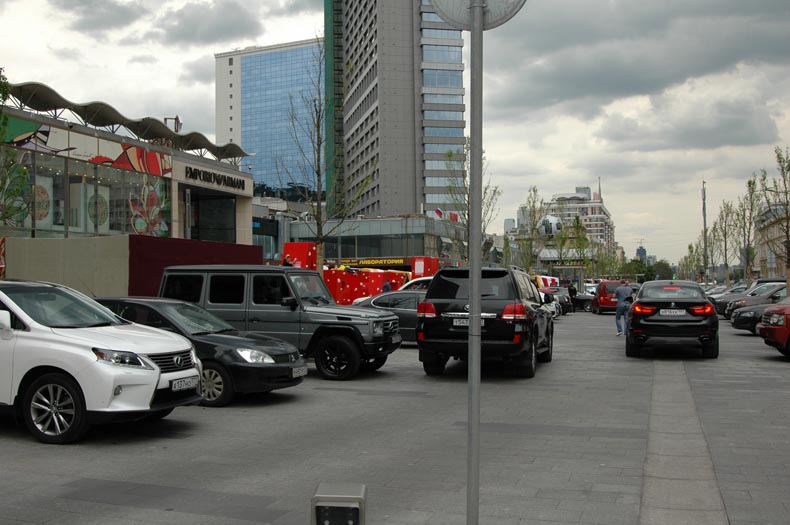 One of the things you'll see after starting to walk along the renovated Noviy Arbat is the wooden 150 meters (492 feet) long bench.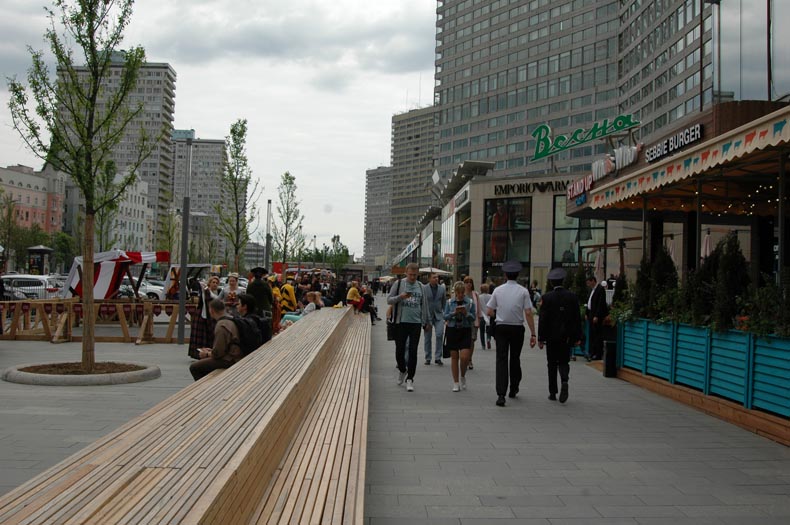 It has plenty of space to sit down for anyone. At first they wanted to build it using granite as the construction material. Later they decided to use wood because sitting on a stone bench in winter is not a very good idea…
New Arbat Notable Buildings
Praga Restaurant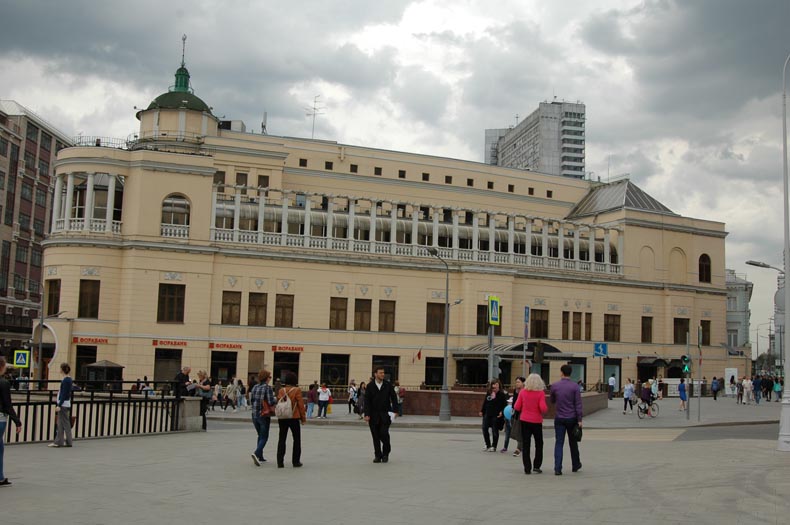 Praga restaurant is located in the beginning of Novy Arbat close to the Arbat subway station. The restaurant occupies the whole building that was built in
17th century
. During soviet times this was the
most expensive
restaurant in Moscow. It's main clientele was mostly Russian elite and it was impossible to get a table there. Even if it was more open to general public, not too many people would afford to have a meal there anyways.
Moscow Book Store (Moscow House of Books)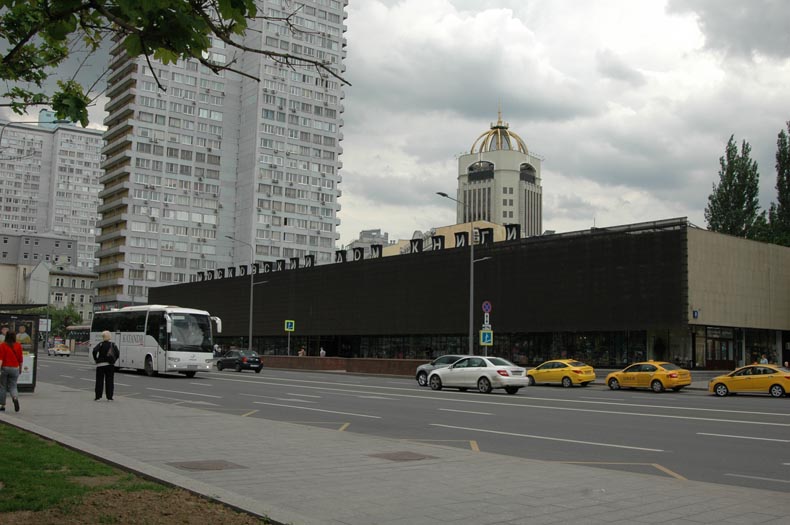 Moscow Book Store
on New Arbat was opened in
1967
. It occupies the total space of
5,000
square meters (almost 54,000 square feet) that made it the
biggest
book store in USSR and one of the biggest ones in Europe at that time. Today Moscow Book Store remains to be one of the major book stores in Moscow that holds more than 200,000 books.
By the way in 2015 The Moscow Times named Moscow House of Books among the "Top 5 Bookstores for English Readers". Every department of this book store has books written in English. The second floor of the famous store has lots of tourist books including travel guides and maps.
Oktyabr Movie Theater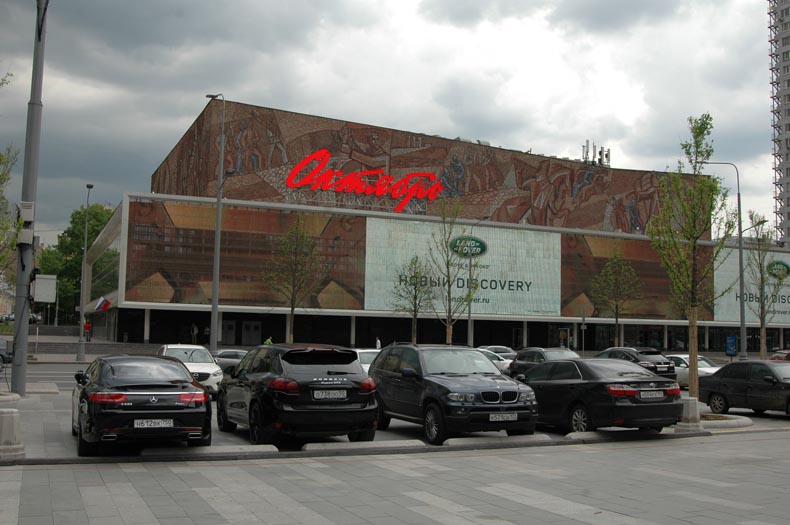 Oktyabr Movie Theater
is another notable building located on Novy Arbat. It was constructed in 1967 and named after October Revolution. What's remarkable about this building is it's façade decorated with a huge
mosaic image
made of natural stone and dedicated to Revolution. Oktyabr Cinema was
renovated
in 2005 and became the main movie theater of Russia that typically hosts most of the major premiers. It has 11 halls, that include the main one that can seat up to
1518 guests
.
Vesna Department Store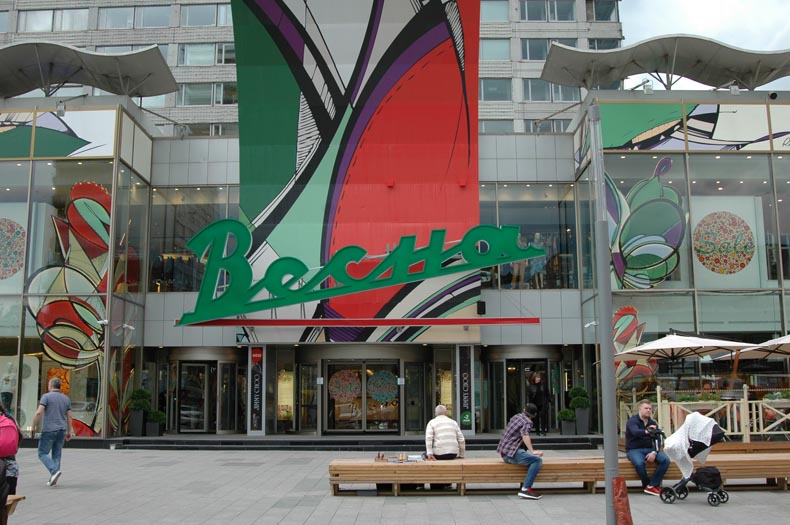 Vesna
is a multi-brand department store that hosts most of the high fashion brands that include Chanel, Tom Ford, Jimmy Choo and many others. The building was decorated by the French artist Romain Froquet and has 4 floors: 2 underground and floors 2 above the ground.
New Arbat Hotels
Here are several decent hotel options located in the New Arbat area. The first one is Marriott Novy Arbat Moscow located slightly away from all the shops and restaurants. It is the first hotel in the city managed by Marriott Hotels & Resorts. Marriott Novy Arbat has 234 rooms and all traditional amenities of a typical 5 star hotel. You can reach Moscow City skyscraper district within 10 minutes by car.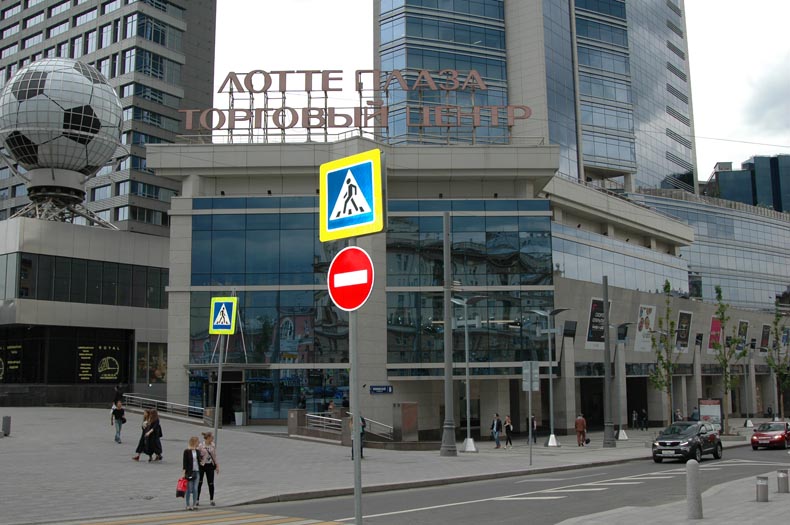 The second option worth mentioning is called Lotte Hotel located at the intersection of New Arbat and "Garden Ring" road that goes around the central part of the city. Lotte Hotel features some high class facilities that include gym, Aldo Coppola hair salon and a restaurant managed by a Michelin-starred chef.
There are several more affordable options located closer to the busy part of the famous avenue. Brosko Hotel was opened in summer of 2018, so its very fresh inside. The amenities include a gym, sauna and a small swimming pool.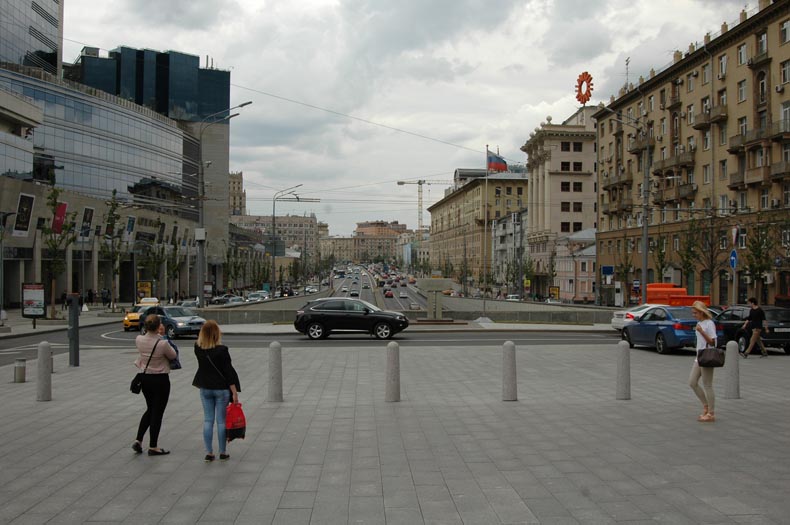 Novy Arbat Restaurants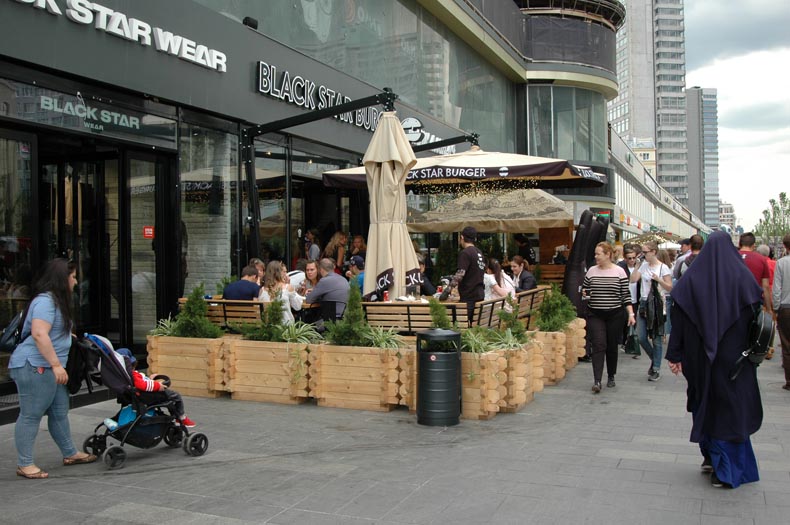 There are lots of places to have a meal in the New Arbat area.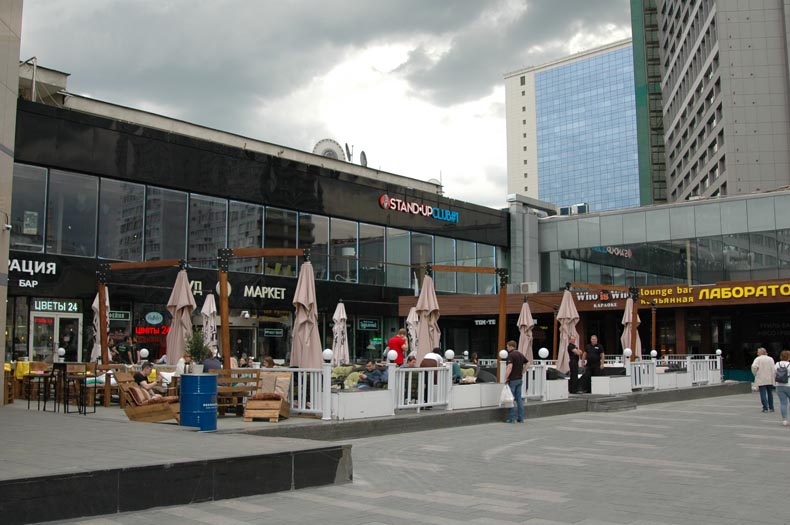 Here is a list of some of restaurants I visit from time to time:
Kitayskie Novosti – a well-known restaurant in Moscow with genuine Chinese cuisine.
Barashka – a restaurant with eastern cuisine.
Obed Bufet – that's actually a buffet that has all kinds of dishes and cuisines. Good value for money!
21 Food Court – a more expensive version of Obed Bufet.
Black Star Burger – fast food chain co owned and promoted by a well know Russian r&b artist.
Coffeemania – a more upscale restaurant and café chain that has a nice summer verandah on Novy Arbat.
In summer every restaurant opens its summer verandah.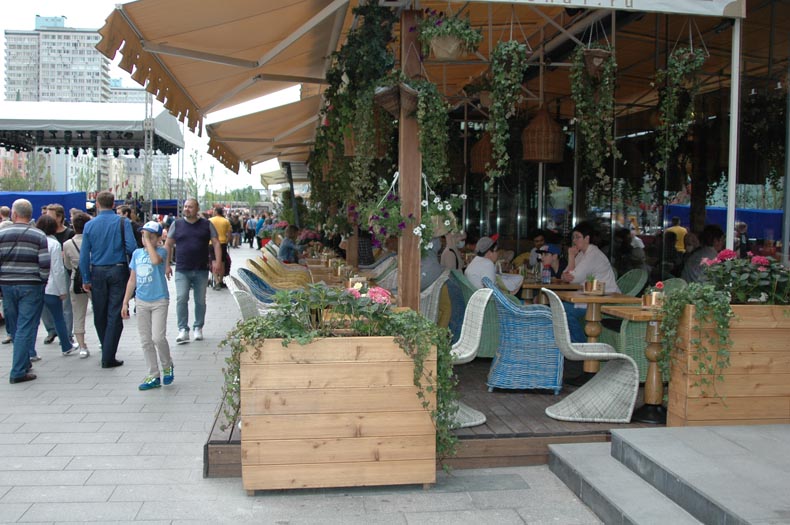 Following one of the adjecent lanes toward Old Arbat street will transform you to the old Moscow Arbat neighborhood.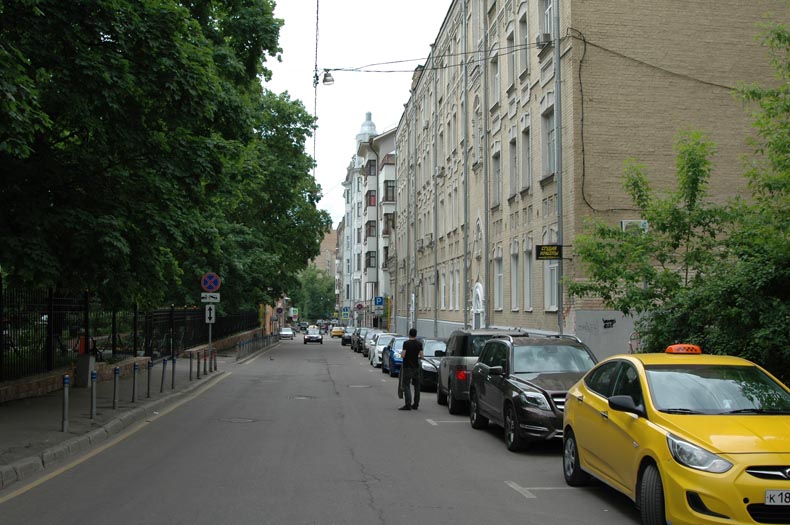 Its nice to walk around the area and explore real life of the city.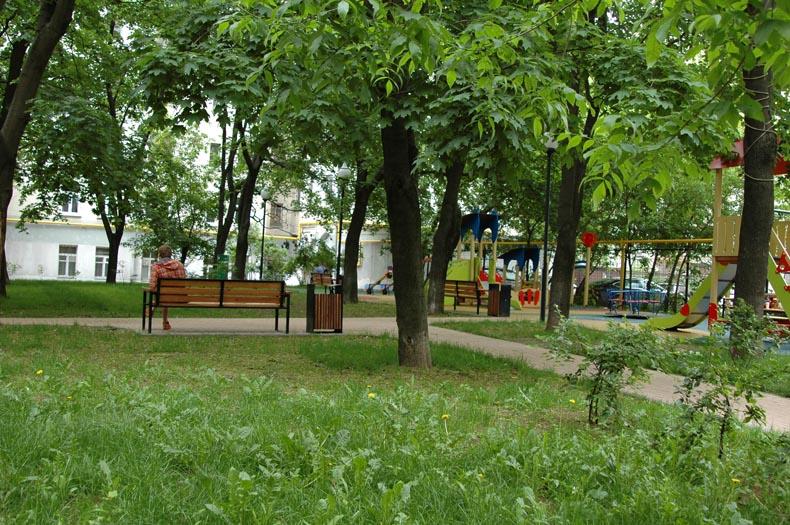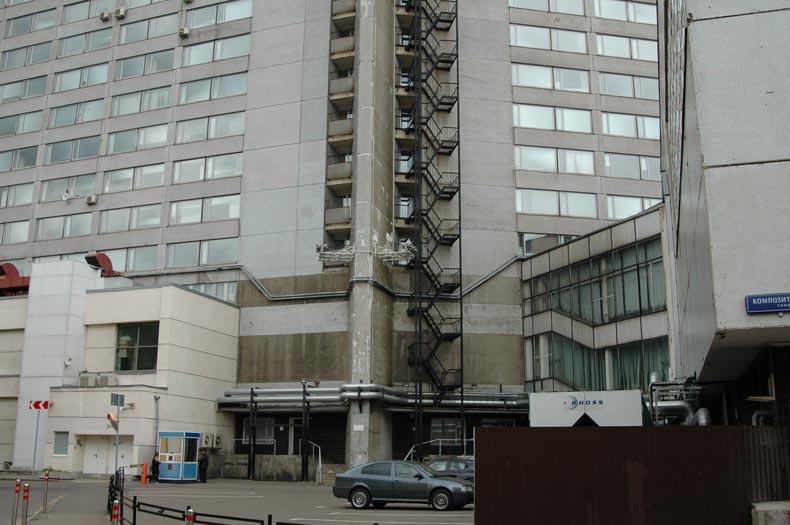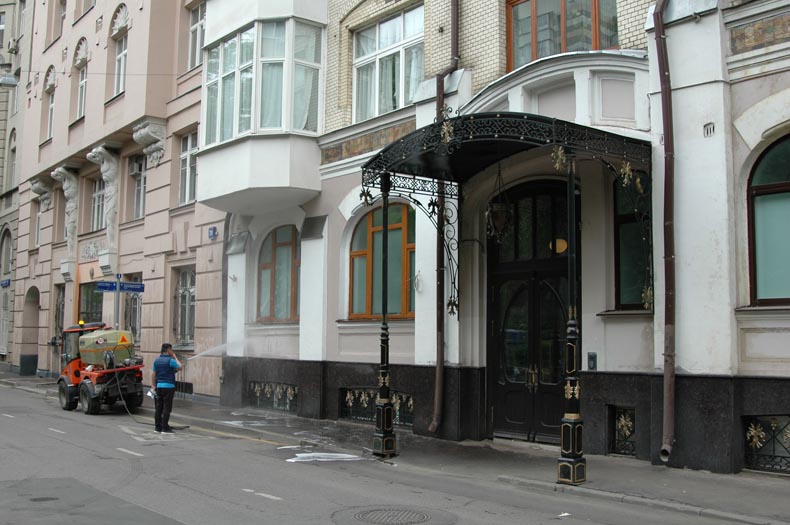 More Attractions in Moscow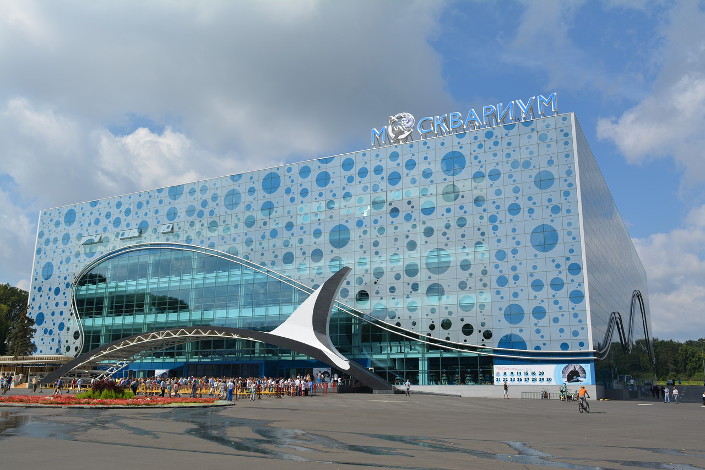 Nearest Metro Station: Vdnkh
Finally Moscow has its own full scale Aquarium built using the best world standards that you can visit with your family during a weekend. It is called "Moskvarium" and it is supposed to be one of the largest in the world. It was opened at the premises of VDNKH All-Russian Exhibition Center as part of the newly built Center of…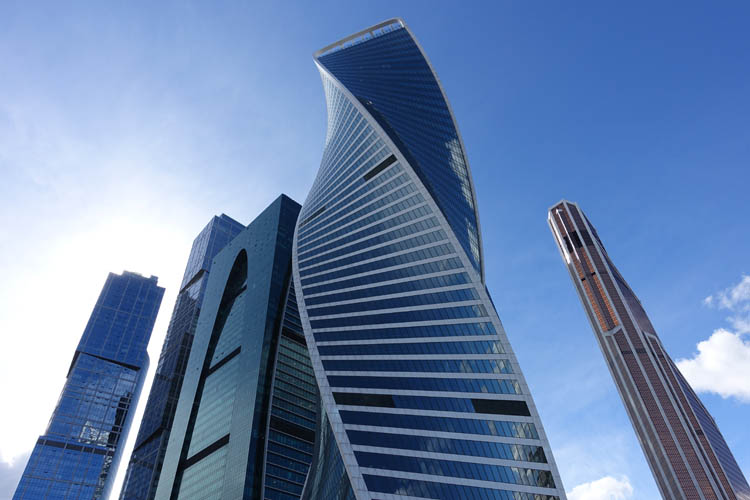 Nearest Metro Station: Delovoy Tsentr
Presnenskaya Naberezhnaya 8
Did you know that Moscow has skyscrapers? There is a plot of land located near the city downtown area that will remind you of other similar places in Paris (Defense district) or London. Moscow international business center also known as Moskva City is the main commercial district of the Russian capital located on Presnenskaya…