Address: Presnenskaya Naberezhnaya, 8, Moskva, Russia, 123317
Nearest Metro: Delovoy Tsentr
Did you know that Moscow has skyscrapers? There is a plot of land located near the city downtown area that will remind you of other similar places in Paris (Defense district) or London. Moscow international business center also known as Moskva City is the main commercial district of the Russian capital located on Presnenskaya embankment just minutes away from the White House government building.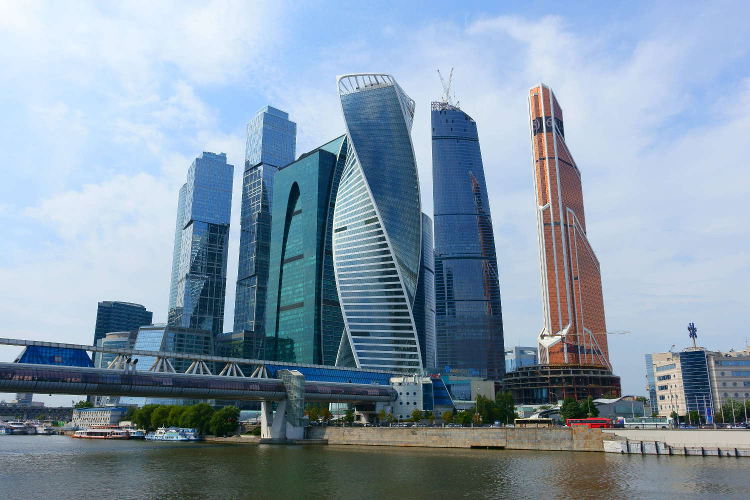 Table of Contents.
Click any of the links below to jump to the desired section: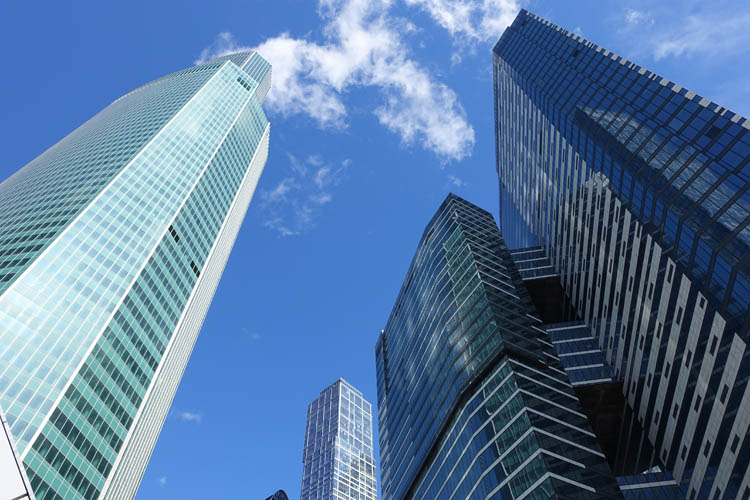 This district is also called Moscow City that everyone knows for its tall buildings. The idea behind this major project was to build the symbol of new Russia. The state government wanted to establish Moscow as one of the global financial centers and demonstrate it the world.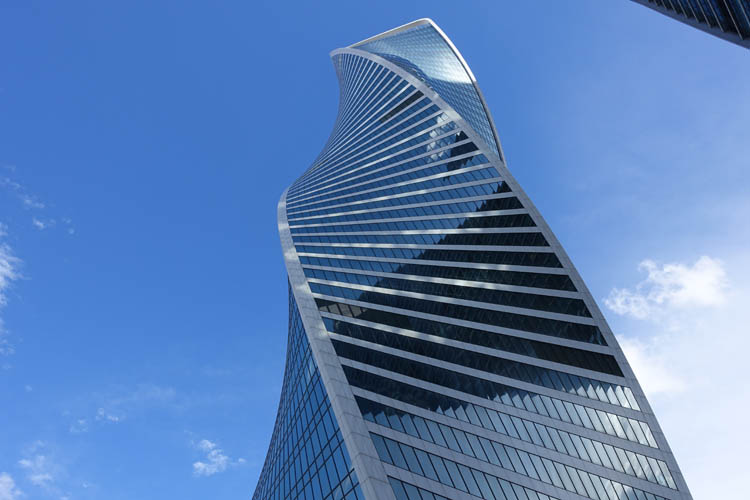 They planned to complete the construction in 2007, but the timeline has shifted to 2018. Initially Moscow government wanted to build 22 skyscrapers and a number of state administration buildings. These plans have changed due to the economic conditions. Today Moscow City includes 15 buildings with the total number of 20,000 parking lots and about 130 restaurants and cafes. Moscow city towers are visited by almost 200,000 people every year.
Moscow City Skyscrapers
70% of the space at the Moscow international business center district is used by offices. 20% of the space is taken by residential real estate and 10% used by commercial tenants. Some of the well-known office tenants include KPMG, BASF, IBM, Zara, General Motors, Hyundai, Japan Tobacco International and many others.
Here is the list of the main buildings and constructions that they have managed to build so far: (from tallest to the shortest):
Moscow Federation Tower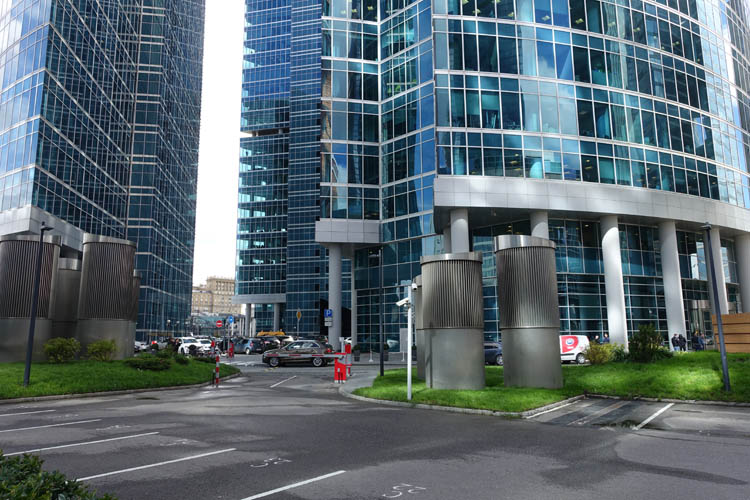 Moscow Federation Tower is actually the tallest building in Europe and Russia. It is
374 meters
tall and has 95 floors. There is a
restaurant called Sixty
located on the 60 floor that has some of the greatest views of Moscow.
OKO Towers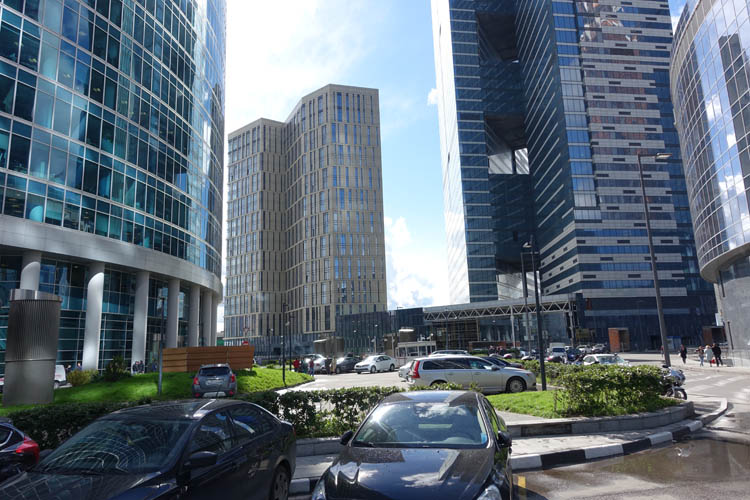 OKO Towers contain both residential and commercial space. One of the towers is
352 meters
high that makes it the
second
tallest building of the district. There is a restaurant with Russian cuisine called Ruski located on the 85th floor and a skating rink on the 86th floor!
Mercury City Tower
You can recognize Mercury City Tower by its gold color. It is 339 meters tall and has 75 floors which makes it the 3rd tallest building in Europe.
Eurasia Tower
Eurasia Tower is 309 meters high and its the fourth tallest building of the district with its 71 floors. It has both residential and commercial space.
Capital City Towers (also known as City of Capitals)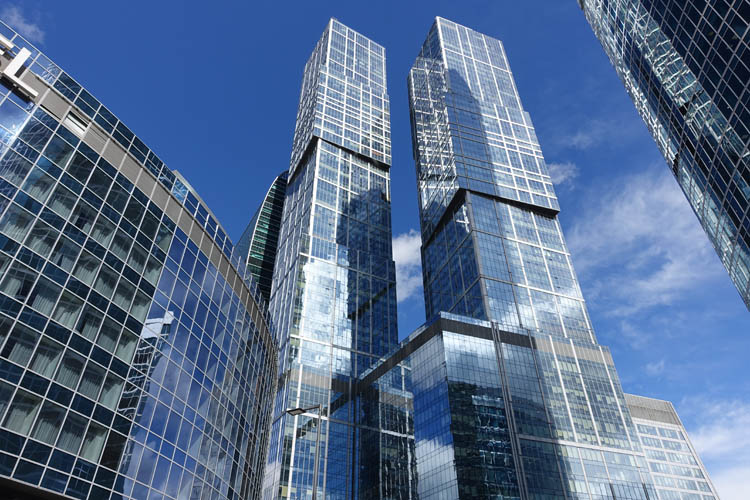 This complex consists of 2 buildings. The first one is called "Moscow" that is
302 meters
tall and has 73 floors. The second is called "St. Petersburg". It is
257 meters
high and has 65 floors.
Evolution Tower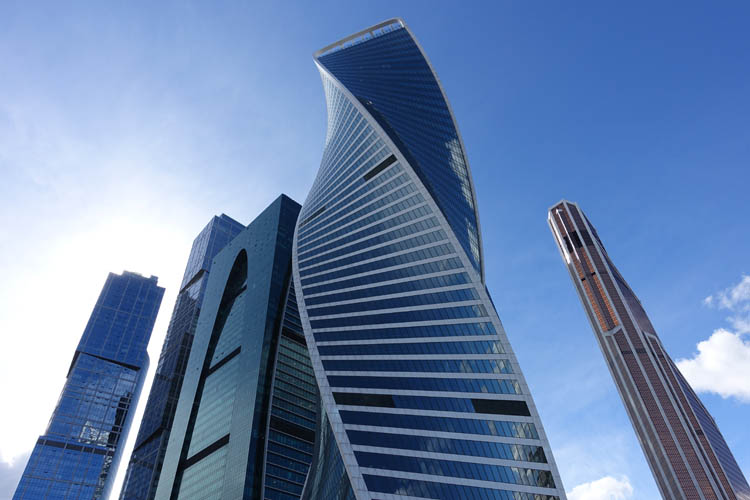 This spiral shaped office and commercial building is called Evolution Tower. It is
255 meters
high and has 53 floors.
Empire Tower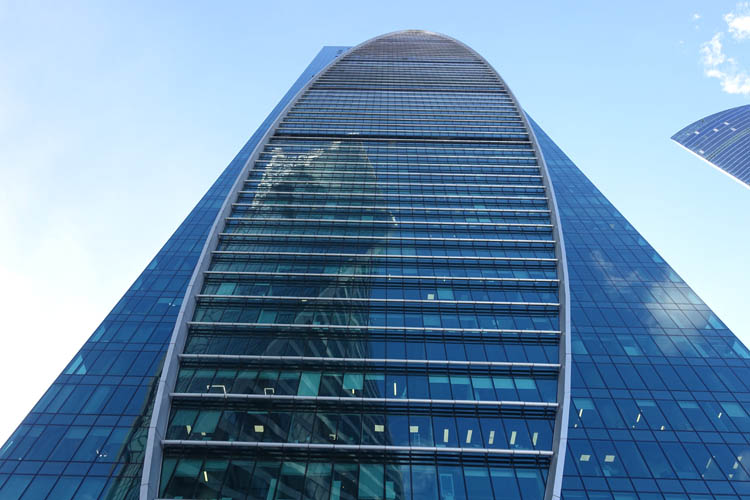 Empire Tower is
239 meters
tall and has 60 floors. It includes both residential and commercial real estate.
IQ Quarter
IQ Quarter includes 3 buildings that have both office and residential space. The tallest tower is 173 meters tall and has 43 floors.
Tower 2000
Tower 2000 was one of the first office buildings constructed in the district. Its total height is 130 meters that is shorter than most of the skyscrapers located in Moscow city.
Hotels at Moscow International Business Center District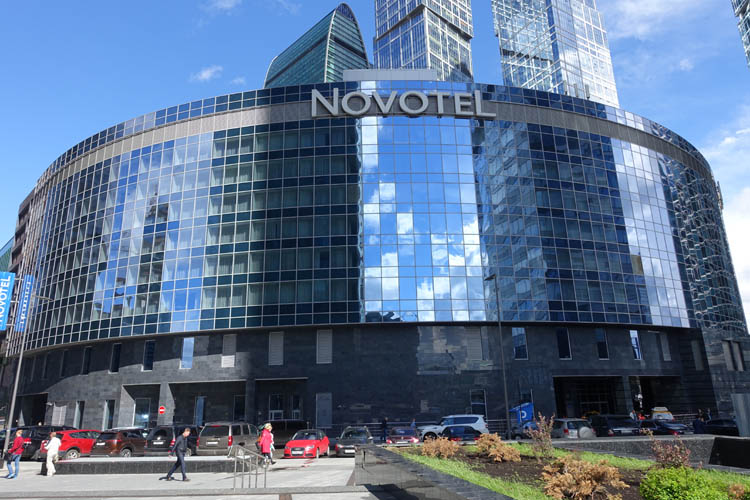 There are two hotels located at the premises of "Moscow City" district. The biggest one is Novotel Moscow City that has 360 comfortable rooms. The hotel has a lot of positive reviews because it offers services at a very reasonable price / value ratio.
The second hotel is called Imperia City which is actually a boutique style hotel located on the 55th floor of the Empire tower. Imperia's rooms feature large panoramic windows so you can enjoy excellent views of Moscow.
There is a third decent option located about half a mile away from Moscow City Business district, in case the previous two hotels don't meet your expectations for some reason. Crowne Plaza hotel at the World Trade Center in Moscow offers all standard amenities you would expect from a good quality business hotel.
Bagration Bridge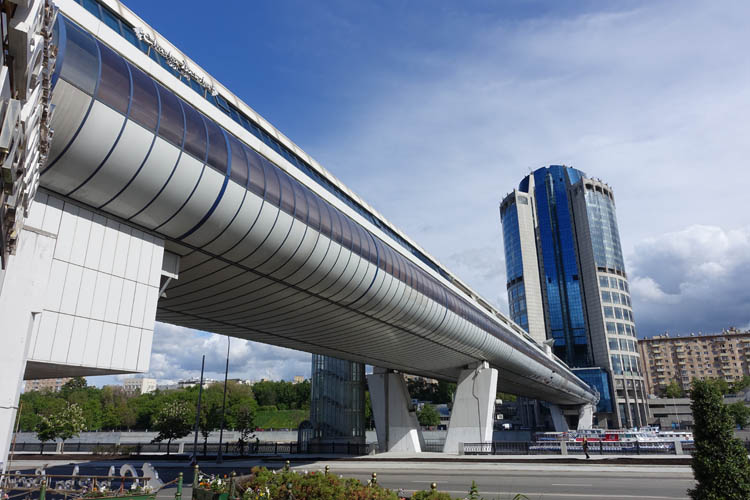 This is a pedestrian bridge that connects Moscow international business center area with one of the main streets of Moscow called Kutuzovsky prospect across Moscow River. It has an excellent
observation area
that overlooks all these Moscow skyscrapers.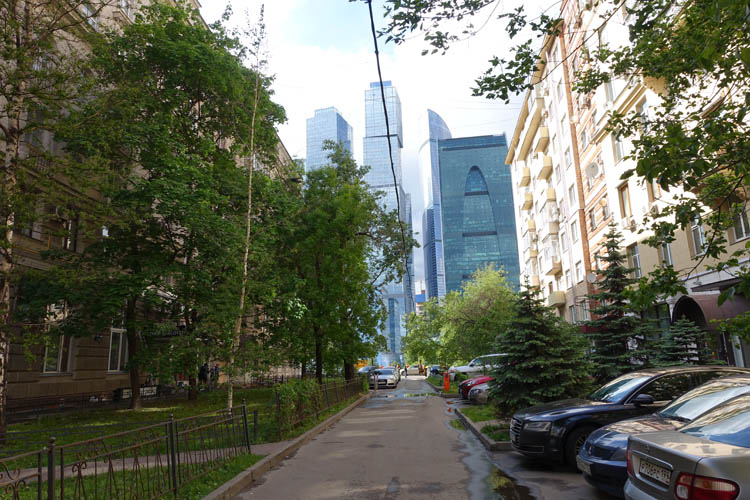 After you cross the bridge you'll find yourself surrounded by the old Moscow buildings where people actually live. It's nice to walk around the area and explore Moscow City Skyscrapers from the other side.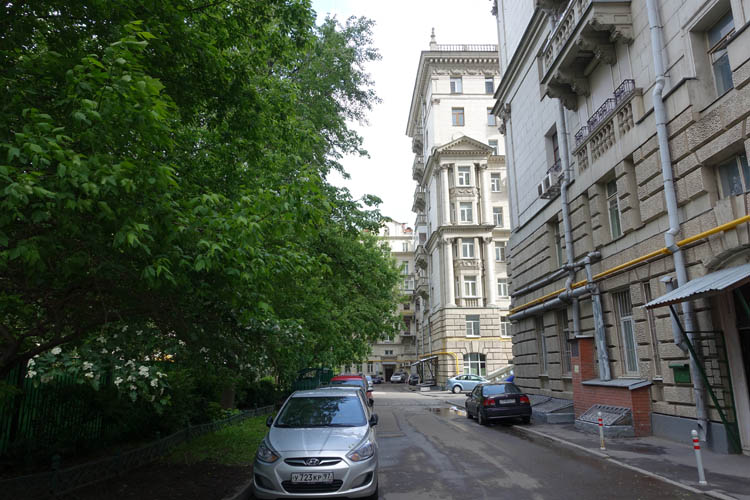 Here the architecture dates back to the Stalin era. Most of these buildings were constructed in 1950s and remain to be in relativelly good condition. You can see the contrast.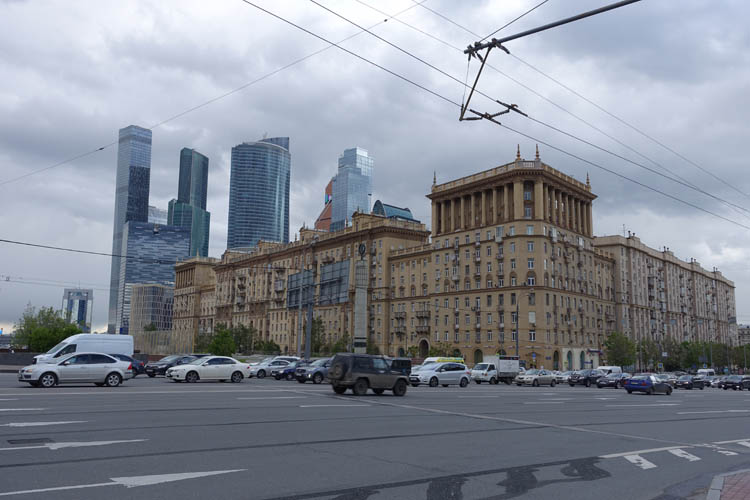 AFIMALL City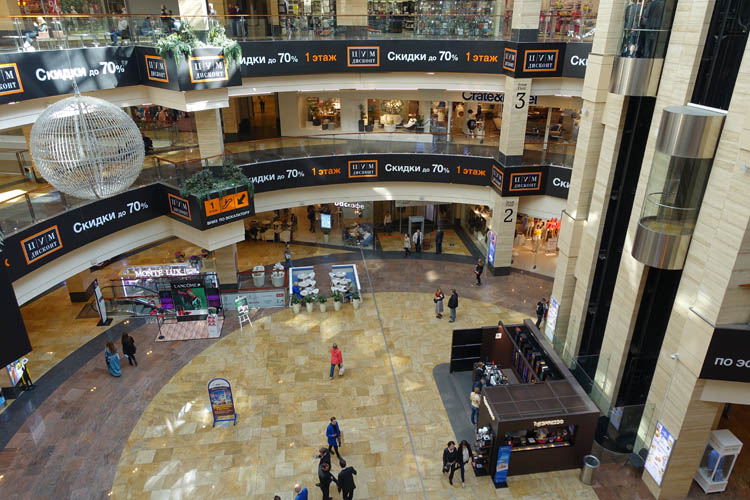 That's a 6 floors modern mall that has more than 400 stores, more than 50 restaurants a bowling club and an IMAX movie theater. So that a regular department store similar to the ones you can find all around the world. There is really nothing more to add here.
Moscow Skyscrapers Residential Area
As I have mentioned before 20% of the Moscow City's space is allocated to apartments. The prices vary depending on the size, interior design and floor. Here is one of the examples that I found on one of the popular Moscow real estate websites.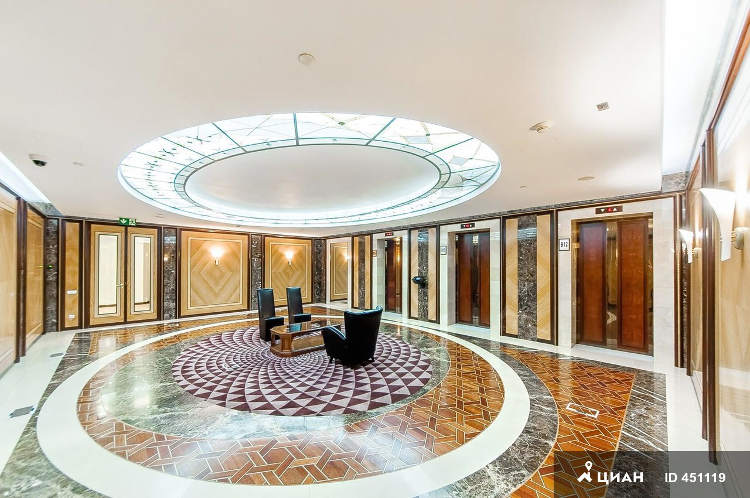 This 500 square meters (about 5,500 square feet) apartment located on the 54th floor of the Federation Tower is on sale for $6,000,000. It features an expensive interior design by the well-known Hirsch Bedner Associates headquartered in California.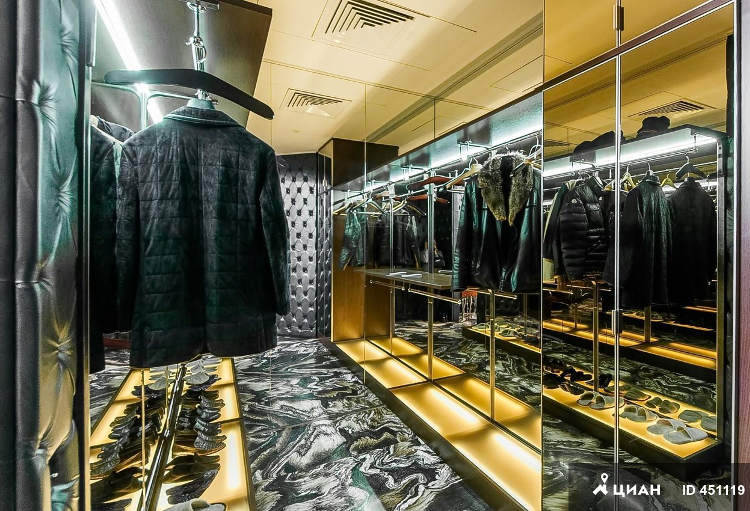 The apartment has 5 rooms including a 150 square meters (1600 square feet) living room. Looks nice!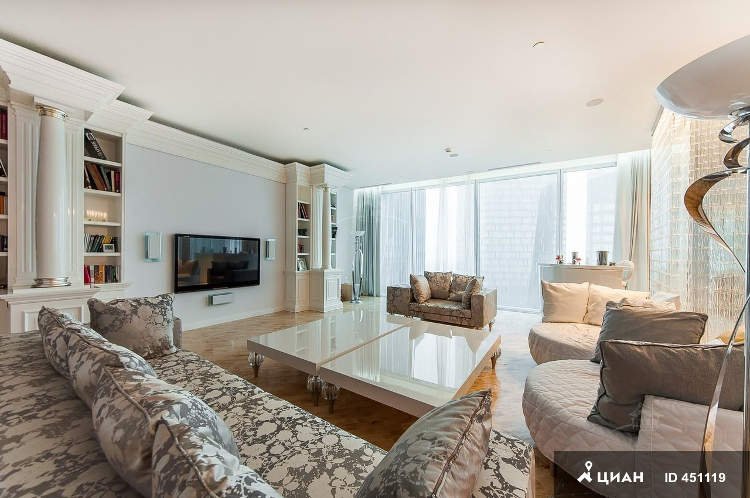 The most expensive apartment in the district is located on 2 floors (58th & 59th) of the Empire tower. It occupies the space of 950 square meters (about 11,000 square feet), includes 270 degrees panorama windows and costs $17million.
Moskva City Restaurants
Moscow City has plenty of food options. There are all kinds of cafes and pizza places located in various buildings of Moskva City. But it really makes sense to visit some of the restaurants with a view if you are there.
Sixty restaurant is located on the 62nd floor of the Federation tower.

Inside Sixty features modern interiors with panoramic views of Moscow and a large open kitchen. The restaurant's menu has an impressive selection of dishes from Russian, Italian and Pan Asian cuisines.

Ruski is another restaurant with panoramic views of the city located on the 85th floor of the "Oko" tower in Moskva City. Ruski's menu is focused on the so called modern Russian cuisine but also contains a lot of international dishes like tartars and Carpaccio.

More details: https://www.facebook.com/ruski354/

Bamboo Bar is a restaurant with mixed cuisine focused on Pan Asian dishes. Bamboo's menu features various fish and meat dishes as well as all kinds of sushi, sashimi, Japanese noodle soups and dim sums.

The restaurant is located at the footsteps of one of the skyscrapers facing Moscow River. It is known for its large open verandah that is open in summer.

More details: https://www.facebook.com/pages/Bamboo-Bar/354261351253666

Similar to Bamboo Bar, Tutto Bene is located on the ground floor of one of the skyscrapers facing Moscow River. This place is worth visiting during warmer months when they open their summer verandah.

Inside the restaurant features Italian interiors where you can enjoy select dishes of Mediterranean cuisine like octopus salad, homemade pastas and monkfish Carpaccio.

More details: https://m.facebook.com/ristorante.tuttobene
Delovoy Tsentr Subway Station
Moscow City can be accessed using three subway stations: Delovoy Tsentr (translated as business center), Mezhdunarodnya (international) and Vistovochniy Tsentr (Exhibition center).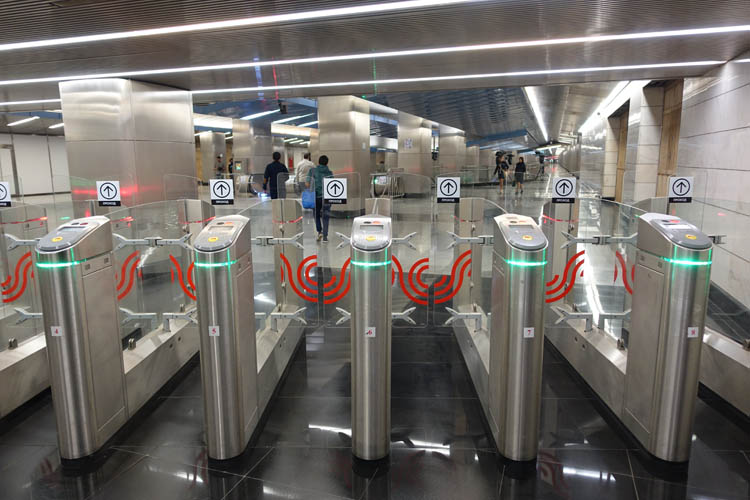 Delovoy Tsentr station was opened in 2014 and has modern design as opposed to most of the other Moscow subway stations built during the soviet times.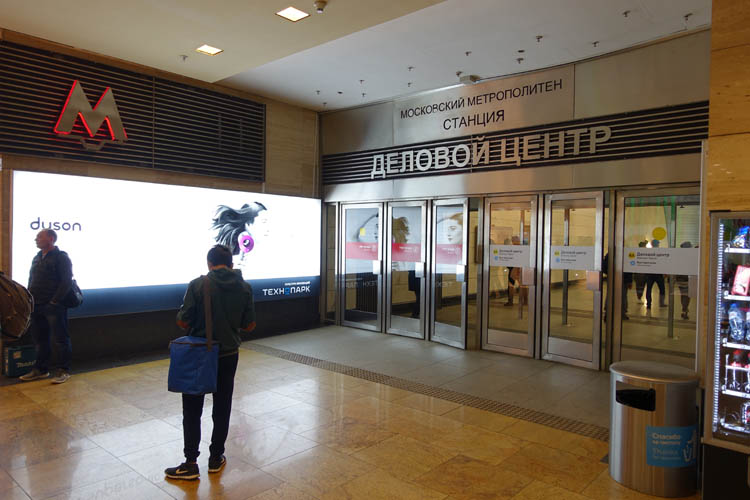 It has an exit towards AFIMALL City shopping center that is merged with the Vistovochnaya station.
Some Controversies
The construction started in 1992 when there was plenty of unused land all around the city. The state started to move production facilities built during the Soviet era outside the downtown and offer the land for construction. Some of the urban architects question the whole idea of building these skyscrapers in Moscow. There was no need for the city to grow taller similar to Hong Kong or Manhattan that simply lack the available plots of land.
Another great problem of The Moscow City district concerns the lack of parking space. Back in 1990 the number of cars registered in Moscow equaled 1 million. There were no traffic jams and there was enough free parking for everyone. Today there are almost 5 million cars in the city! It turns out they didn't project that kind of growth and didn't consider the world's best practices for that kind of projects. As a result the whole Moscow international business center doesn't have enough parking for everyone. Only a small portion of people working at the offices located there have their underground parking spaces.
Another thing I heard people complain about is that this whole Moscow city skyscrapers area becomes so empty during the evenings. There aren't too many people who actually live there and its public area lacks major attraction points for the people except several higher class restaurants.
More Attractions in Moscow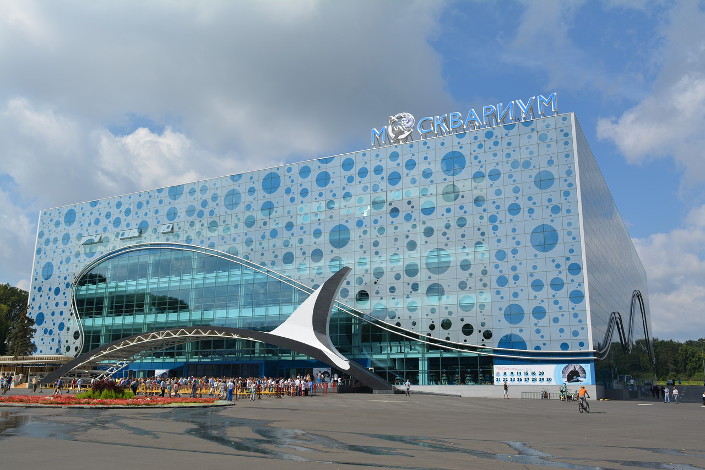 Nearest Metro Station: Vdnkh
Finally Moscow has its own full scale Aquarium built using the best world standards that you can visit with your family during a weekend. It is called "Moskvarium" and it is supposed to be one of the largest in the world. It was opened at the premises of VDNKH All-Russian Exhibition Center as part of the newly built Center of…