More restaurants in Moscow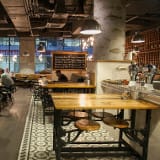 Nearest Metro Station: Belorusskaya
Lesnaya Ulitsa 7
Boston Seafood & Bar restaurant in Moscow was opened by the two owners of Torro Grill steak house chain. In fact Boston Seafood & Bar is located just across the road from the flagship Torro Grill restaurant near Belorusskaya subway station.
Boston Seafood & Bar has 2 major advantages that make it stand out among other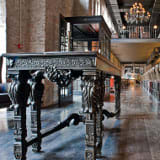 Nearest Metro Station: Sportivnaya
Bol'shaya Pirogovskaya Ulitsa 27
The building where Luch is located was constructed before revolution and during soviet times belonged to electro-lamp production plant. The renovated building has tall ceilings, one of the longest bar tables in town, restaurant and a beautiful summer veranda.
Inside Luch is decorated by modern art items that include sculptures, paintings and photos. Local bar menu