More restaurants in Moscow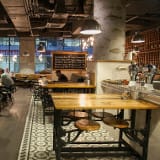 Nearest Metro Station: Belorusskaya
Lesnaya Ulitsa 7
Boston Seafood & Bar restaurant in Moscow was opened by the two owners of Torro Grill steak house chain. In fact Boston Seafood & Bar is located just across the road from the flagship Torro Grill restaurant near Belorusskaya subway station.
Boston Seafood & Bar has 2 major advantages that make it stand out among other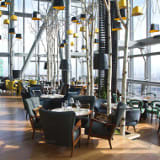 Nearest Metro Station: Delovoy Tsentr
Presnenskaya Naberezhnaya 12
Sixty restaurant is located on the 62nd floor of Federation Tower in the modern "City" business district. "Moscow City" is well known for its skyscrapers that symbolize new Russia. It is definitely one of the best restaurants with a view and the highest dining venue in Europe.
Sixty's menu includes meat dishes, a good selection